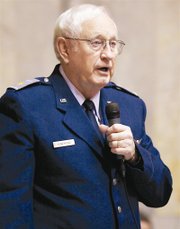 Civil Air Patrol members and cadets are not accustomed to being the center of attention, yet they had no choice but to take a bow last Wednesday as the Washington State Senate took time to salute the history and service of the Civil Air Patrol and its Washington state wing.
Sen. Jim Honeyford, a Sunnyside Republican who is a Civil Air Patrol member and commander of the Washington wing's legislative squadron, said he introduced Senate Resolution 8602 to offer some well-deserved recognition to an organization that typically "is at its best when things are at their worst."
The resolution adopted today traces the Civil Air Patrol's history from its inception 69 years ago, through what is likely the crowning achievement of the Washington state wing so far: its invaluable participation in the emergency response to the May 1980 eruption of Mount St. Helens.
The Civil Air Patrol remains vital today even as its work generally goes unsung, Honeyford said. In 2010 alone, he noted, the Washington state wing logged 2,650 hours of volunteer flying time, saving the state, counties and municipalities an estimated $3 million. And, as important as Civil Air Patrol is year-in and year-out, Honeyford said its help is particularly appreciated when state and local governments are seeing their resources stretched so thin.
"One of the messages coming out of the Capitol this year is that state government simply can't do everything it used to do, even in the area of public safety. This is an appropriate time to point out how the Civil Air Patrol has been there, helping to keep our communities and nation safe and secure, since day one of its existence," Honeyford said.
SR 8602 mentions how the Civil Air Patrol's Washington wing has nearly 750 senior members and close to 625 cadets, who are ages 12 to 18; what the Civil Air Patrol offers to youth is worth recognition all by itself, Honeyford said.
"There are service organizations for adults and organizations oriented toward teens, but how many bring adults and youth together under the same banner of public service? If someone asked me what the Civil Air Patrol does for our young people, it's simple: we make leaders."