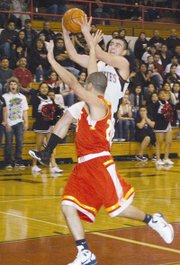 A regular season ending split this past weekend wasn't enough to advance the Sunnyside Grizzly boys basketball team to the postseason.
The Grizzlies, who ended at 5-9 in league play and 7-13 overall, missed the CBBN 3A's sixth and final playoff berth by just one game.
Sunnyside started this past weekend on a positive note with a 67-51 home win against Pasco.
The Grizzlies blitzed out to a 16-8 first quarter lead and a 36-20 advantage at the half and never looked back.
Israel Manzo paced Sunnyside to the quick start with 15 of his game-high 22 points in the first half.
The Grizzlies sealed the win in the third quarter with a 24-13 run to go up by 27 points heading into the final stanza.
"We did a very good job of moving the ball," said Coach Ron Rowe.
Trey Serl had 12 points to help spark the Sunnyside offense, and Eric Amaro added nine points.
Greg Spini helped Sunnyside to a 31-to-29 rebounding advantage with six boards, followed by Miguel Barrios, Andrew Daley and Manzo with five caroms each.
Manzo also dished out a team-high five assists.
Daley was a key in Sunnyside's pressure defense, recording four steals.
Ryan Search's 16 points paced Pasco.
Saturday was a different story, as league champion Kamiakin outscored Sunnyside 34-14 in the second half to rally for a 66-47 victory.
Again, Sunnyside enjoyed a strong start, trailing just 22-20 after one quarter and grabbing a 33-32 edge at the half.
But the wheels came off in the second half, as Kamiakin used its height advantage to outrebound Sunnyside 29-to-15.
Rowe said Sunnyside didn't help its cause in the shooting department.
"We didn't shoot as well as we did in first half," he said. "We had a lot of good open looks."
Sunnyside trailed by just six after three quarters, but could only muster four points in the fourth quarter on 1-of-10 shooting in the final stanza.
Manzo led Sunnyside with 18 points, followed by Serl with 16 and Daley with nine.
Jessie Leija guided the Sunnyside attack by dishing out six assists, while Serl swiped three steals for the Grizzlies.
Kamiakin was led by Tyler Holley.
Saturday's loss quashed any chances Sunnyside had of reaching the post-season, but Rowe said the 2010-11 campaign provided some progress for the boys basketball program.
"Overall we made very good growth from the begining of the year to the end of the season," he said. "Many ballgames we were in and just came up short. We didn't get blown out many times."
Rowe added, "Our defense got stronger throughout the year. Our passing got better, we were able to move the ball better on offense."