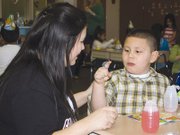 On Feb. 6, 2005, New England Patriots fans across the United States celebrated the third Super Bowl victory with a win against the Philadelphia Eagles, but in Sunnyside, Sarah and Tomas Villalobos were at Sunnyside Community Hospital welcoming their first son - Zeke.
Six years later, Zeke is a kindergarten student at Sun Valley Elementary School and has grown to love his Super Bowl roots. Though his birthday has, once again, fallen on Super Bowl Sunday, he is pleased to share the celebration with sports fans everywhere.
But Zeke shares this unique honor with someone else in his family. In 1984, Sarah Villalobos, his mother, was also born on Super Bowl Sunday.
Sarah says the entire Villalobos family is very active and sport-orientated, so it seems fitting that two of their family members should be born on the same day of such a major sporting event. Zeke's older sister is a GridKid cheerleader and Zeke has played t-ball, basketball and football.
Unfortunately, Zeke's only birthday wish for this year did not come true. All he wanted was to see the Seattle Seahawks in this year's Super Bowl. Though his favorite team did not make it to the big game, the Villalobos family was happy to see the Green Bay Packers take home the championship.
"We're rooting for the underdogs," said Sarah at a special birthday celebration for Zeke in his kindergarten classroom this past Friday. Zeke was even wearing green in support of the Packers.
Sarah said that with the Super Bowl legacy, it has become something of a tradition to hold their Super Bowl Sunday party at the Villalobos household.
"There is not enough room," she said, but the family does manage to fit an average of 15 people into their house for kick-off.