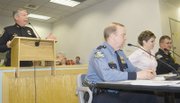 Last night (Monday) the Sunnyside City Council continued its consideration of recommendations from the public safety committee presented at a special meeting held last Monday.
Three staff positions discussed last night will be recommended for approval at the next two city council meetings.
Sunnyside Police Chief Ed Radder said the discussions were centered on three items recommended because three other items discussed last week were already being addressed in some manner.
The three priority items discussed last night were the addition of a crime analyst, two officers and new automated license plate readers.
The purchase of license plate readers was, after a short discussion and presentation by city of Kennewick Crime Analyst Kim Hathaway, put on hold because Radder believes further study is needed. He said his department would like to further investigate how the license plate readers might benefit his department and whether or not they could be purchased at a lesser cost to the city of Sunnyside.
Hathaway spoke to the council to provide better insight into what her job entails and how Sunnyside might benefit from hiring a crime analyst.
She has been working for the Kennewick Police Department since 1996 and Kennewick Police Chief Ken Hohenberg told the Sunnyside City Council she is invaluable.
Hathaway said there are three other crime analysts in the Tri-Cities and one in Yakima with whom she networks to further assist law enforcement officers in the region.
"It's not CSI...we study crime patterns and trends, the way they affect a jurisdiction, and how to respond to them," said Hathaway.
She said every crime analyst has to assess the needs of their department and specialize the job to make it fit the needs of the agency.
In addition to analysis of crimes in her city, Hathaway uses her skills to seek out and secure grants for the purpose of addressing the needs of the community.
"I organize gang sweeps," she said, stating coordinating a gang sweep requires intelligence gathering and communication between her and the officers involved in a sweep.
There have been four gang sweeps in the Tri-Cities involving up to 20 agencies and 70 officers in the past two years, said Hathaway. She said more than 20 search warrants were served and more than 60 individuals have been arrested as a result of those sweeps.
The primary duties of a crime analyst, said Hathaway, involve information sharing. She said her job is to "bridge the gaps" between the different officials. A crime analyst can gather information from detectives, patrol officers and school resource officers (SRO) and make it more easily accessible between shifts and the different officers.
Hathaway said an officer may share with other officers activity from his shift, but he may have knowledge he believes is not important. As a result that knowledge is not shared, but the smallest bit of information may point to a larger problem.
"Gang activity is an important issue in this region," she told council.
Hathaway said analysts put together statistics and can map activity to better provide officers an idea of where efforts should be focused.
Statistical analysis is also important information for a police chief, city manager, city council and the media. She said that information can be formatted by the crime analyst to provide those entities a better view of crime trends, where law enforcement efforts need to be improved and whether or not there are reductions in specific crime activity.
"Most of the information," Hathaway advised, "is internal law enforcement data."
As a crime analyst, it is also her job to issue bulletins alerting the media and officers of a wanted suspect or other information of importance.
Following Hathaway's presentation, Radder discussed with the council the importance of creating a gang task force.
To do so, he said, two additional officers would be needed.
"I envision a group of officers dedicated to finding and apprehending criminals involved in gang activity and other criminal behavior," said Radder.
He said two officers would be hired to allow two of his current officers to focus their efforts on criminal gang activity.
"They would have a natural hunting instinct, abilities, skills and talents," said Radder.
He said experience officers are preferable for the gang task force because officers who have been in the field and are familiar with the community would have an advantage.
"They know what they can do and where they can go," said Radder.
The addition of a gang task force, he told council, would free other resources and provide patrol officers to stay in the field.
After hearing from Hathaway and Radder a heated debate erupted.
Councilmen Don Vlieger and Mike Farmer both believed the council should consider approving the three positions at next Monday's city council meeting.
The funding for the positions would be in excess of $200,000. The councilmen said the city could afford the positions with more than $1 million in non-appropriated funds within the city of Sunnyside's general fund budget.
However, staffing costs require continued funding and several council members wanted to know where the funding would come from.
Deputy City Manager and Chief Financial Officer Byron Olson said there wasn't any doubt the city could afford to hire a crime analyst and two officers this year. However, he said he would have to evaluate the budget with City Manager Mark Gervasi to find funding for successive years.
Vlieger contended with the statement, pointing out the failure of I-1105 and I-1100 provides about $100,000 to the city coffers that was initially removed from the budget. He said the funding would help offset the costs of hiring the personnel recommended by the public safety committee by about half.
Olson warned the money is currently an addition to the budget that has not yet been amended into the budget, but there is no guarantee there won't be another initiative realigning the state's liquor taxes in the next two years.
Vlieger said, "We have to budget with recurring funds. As the law stands now, those are recurring funds."
Councilman Pablo Garcia, addressing Vlieger, said, "You've held our feet to the fire on where money is spent."
He said he wanted to look at the long-term stability of the funding for the three positions being discussed and he feels it is council's duty to do what Vlieger has asked of them in the past...to be financially responsible to the citizens.
Councilman Tom Gehlen echoed that, stating the money in the budget is not the council's to play with.
Vlieger said his priority is to address the crime that has been affecting the city and he feels the three positions are a wise use of the city's money.
He said he wants to work hard on suppression efforts. "Our first job is to make people miserable and uncomfortable," he said, speaking about criminal gangs and their associates.
Council agreed to hear from the public next Monday and to take a vote regarding the hiring of a crime analyst. At the Monday, Feb. 28, meeting the Sunnyside City Council will receive a recommendation to authorize two additional police officers.