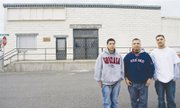 The warehouse on the corner of South Sixth Street and East Railroad Avenue in Sunnyside is a historic building that has been in need of some TLC for a while.
Alejandro Garcia and Anjelica Rojas recognized the building's potential and recently purchased it with plans to remodel the structure.
The couple owns Alex's Barber and Tattoo Shop near Sunburst Video in Sunnyside. They have been looking for a larger space and felt the warehouse would suit their needs, according to Garcia.
He said the business is growing and currently has two tattoo artists, including himself. Rojas is a stylist and there are three barbers on staff.
The historic warehouse, said Garcia, has a lot of work to be done. He, however, is confident the space will once again be appealing to the community.
"The floors, the roof and the walls are all getting redone," said Garcia, stating the planked wood flooring will be replaced with tile floors and walls inside the structure will be replaced.
"Everything has to be revamped," he said.
Garcia predicts the overhaul of the interior will take about three months, but he feels the effort will be worthwhile.
He wants the building to be a jewel, preserving the historic appeal of the downtown area.
Garcia has been a barber for many years, having moved to the community about three years ago. Rojas, he said, has been a stylist for 15 years.
The venture is the culmination of years of hard work and the couple is seeing a dream come true as they expand the business.
The warehouse was purchased Jan. 13, 2011 for $85,000 from Mark and Mara Zieske, according to county records.
Garcia said he is pleased he and Rojas were able to secure a site that will serve the needs of their expanding business.