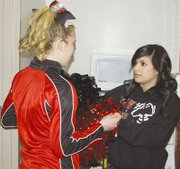 When a high school football player moves on to college, and then the pros, what's left for them? For most, it's coaching.
Sunnyside High School Rally Coach Alejandra Bobadilla took a similar route. She was a cheerleader at Sunnyside High School, but she never cheered in college. She did, however, do a brief stint with the Yakima Warriors, before time constraints took her away from that.
So after being a high school cheerleader, and then a professional one for a brief time, it is only fitting that she now heads the Sunnyside High School rally squad.
"There was always a sense of leadership I would take when I was a cheerleader," she said. "I knew I wanted to coach, I had a vision of what I wanted the program to be."
When the job became available she jumped at the chance. She would visit the school's website everyday to see if the job was posted. She was a little apprehensive at first because she is so young, just 21.
"I was very nervous, I didn't think I'd get an interview because I was so young," she said.
But she did and in May of 2010 she was hired.
She immediately got to work. She came up with new routines so all the girls who tried out for the team would be on even footing. The turnout was large, more than 60 girls turned up to give it their best shot. In the end, only 16 girls were selected, 10 of them seniors. This, Bobadilla said, will give her squad a very fresh look next year.
This year there are only girls on the team, but Bobadilla said she is hoping to get more young men to join next year.
"With boys we can do more stunting," she said, explaining that with boys it's easier to do extreme maneuvers.
Bobadilla works at U.S. Cellular in Sunnyside as a retail wireless consultant. Because of this she holds practices at 5:15 a.m. every morning, except for game days.
"I like the morning practices," she said. "It gives the team opportunities to do other activities."
Practice lasts about an hour and a half.
Practices usually consist of learning new material and spending a lot of time critiquing. Bobadilla said in order to be a cheerleader, he or she must be strong mentally and not just physically. The job also calls for lots of positive feelings.
So far her first year has gone better than she could have possibly expected. Part of that, she said, comes from the support the school's ASB office gives her. Bobadilla is hoping to be at Sunnyside High School for the long haul and wants her team to eventually compete at cheerleading competitions.
"I'm looking to switch the main focus to competition," she said. "It won't be anytime soon, but I want to build towards that."
She has already started thinking about next year, especially when it comes to fundraisers. She's thinking of maybe doing some car washes and will put on a Lil' girls cheer camp.
Tryouts for next year's team will be held in March or April. This, Bobadilla said, will give her team time to start fundraising.