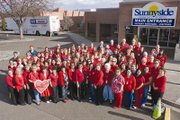 "Heart disease is the leading killer of women," said Dr. Katheryn Norris yesterday (Monday) at the annual National Wear Red Day luncheon hosted by Sunnyside Community Hospital.
She was the featured speaker of the event and told those in attendance one woman dies every minute because of heart disease.
The "Mission Go Red for Women" sponsored by the American Heart Association first began in 2005 and over the years has grown. The purpose of the annual event is to promote awareness, raise funding for research and to promote healthy lifestyles for women.
Norris said the American Heart Association also has available on its website many tips and tools to help women assess their risk, share stories and to improve their overall health.
"One in three women die of heart disease," said Norris. She said heart disease kills more women than cancer, stroke, chronic lung disease and Alzheimer's disease combined.
She said it is important for women to know if their family has a history of heart disease. "Know your health history," she urged.
Because of the American Heart Association's efforts, Norris said, more women are aware that heart disease is the number one killer of women. "But not all women do," she said.
The American Heart Association, she said, has been working to raise awareness, which means it has been urging women to change their lifestyles. Lifestyle change, said Norris, means exercising and eating healthy.
Heart disease, she said, can affect anyone. Ethnicity and age can play a role, but not always.
Norris urged those attending yesterday's luncheon to visit the American Heart Association website to learn how they can improve their heart health.
"Every day we make choices...you decide and have to realize it's important to make a change," she said.