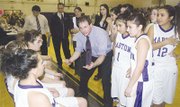 MABTON - It was bad enough the Mabton Lady Viking basketball team had to play its postseason opener last night without all-everything Crysta Reynolds.
But the injury bug bit the team again Tuesday night with the loss of yet another starter as Mabton fell at home to Zillah 54-49.
Things started out promising for the Lady Vikes, who led Zillah 13-12 after one quarter and 20-19 at the half.
While Mabton held tough minus Reynolds, out with a high ankle sprain, the Lady Vikes suffered another blow in the second stanza when one of their top scorers, Melissa Gutierrez, went to the bench when she rolled an ankle.
With Reynolds, Mabton's top rebounder, gone and Gutierrez also out with an injury Zillah took advantage in the third quarter and worked the ball inside to the tune of a 23-10 run to go up 42-30 heading into the fourth quarter.
The Leopards' Alisi Uasike scored nine of her team-high 16 points in the pivotal third frame as Zillah drove in the paint against the shorthanded Lady Vikings.
"They just pounded the ball inside and without Crysta that's a big problem for us," said Mabton Coach Chris McCallum. "Things went their way in the third quarter."
Gutierrez was healthy enough to return to the court for the fourth and final stanza and helped Mabton pull within three points with just over a minute to play. The Lady Vikes trailed by three and had the ball with a chance to tie, when the shot fell awry and Mabton lost the offensive rebound out of bounds.
Zillah canned a clutch three-pointer the other way to go up by six. From there Mabton was forced to foul and the Leopards made enough free throws to keep the Lady Vikings' charge at bay.
"I told the girls not to give up, to get after the loose balls," McCallum said of the pep talk to his team entering the fourth quarter. "They had no quit in them. They answered the call and left everything on the court. I couldn't be more proud of them."
Without Reynolds and Gutierrez, other Mabton players had to step up. Accordingly, Veronica Vasquez tallied a career-high 23 points to go with 10 rebounds. "She played the best game of her high school career," McCallum said of Vasquez.
In addition, Jazzee Sustaita responded with a great all-around effort. She nearly pulled off a rare triple-double for Mabton with 16 points, eight steals and nine rebounds.
The loss snapped a seven-game winning streak for the Lady Vikings that had vaulted them into second place in the SCAC East and a home playoff game last night.
Mabton (12-9) returns to postseason action this Saturday when it plays a loser-out game against Riverview. The contest will be played at a neutral site, either Zillah or Toppenish.