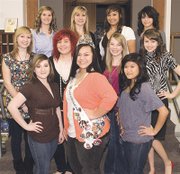 Maria Santos (Sandy) Gomez, 49, of Kennewick went to be with our Lord on Saturday, Feb. 5, 2011.
She was born Dec. 4, 1961 in Casa Grande, Ariz., to Vicente and Rebecca Becho.
Maria was raised in Outlook, along with her 11 siblings and her nephew Alex.
She attended and graduated from Sunnyside High School. She continued her education and received her AA from Trend College.
She married Emidio Gomez Sr. on June 7, 1980 and they together had two sons, Emidio Gomez Jr. and Sergio Gomez. They made their home in Kennewick.
She was employed at Benton County Health Department.
Maria was a wonderful wife, mother, aunt and friend. She was our weekend shopping buddy.
Maria enjoyed going to the theater with family and friends. She looked forward to Sundays, it was her casino day with her husband. Family meant everything to her, and she enjoyed spending time with them, especially holidays. Easter was her favorite time of the year.
Everyone will remember her laugh, smile and the twinkle in her eyes.
Maria is survived by her husband of 30 years, Emidio Gomez; her two sons, Emidio Gomez Jr. and Sergio Gomez; seven sisters, Evengelina Becho, Rebecca Becho, Eva (Roberto) Tiliano, Manuela Tovar, Angelica (Ole) Luna, Bertha (Jose) Ochoa and Criselda (Nicolas) Sustaita; two brothers, Jose (Connie) Becho and Adam (Lynn) Becho; her husbands family, mother-in-law, Rosa Garcia Alvarado; eight brother-in-laws, Uriel (Noemi) Gomez, Bernabe (Yolanda) Gomez, Alcadio (Luisa) Gomez, Miguel (Esther) Gomez, Amador Gomez, Jesus Gomez, Abelino (Lilia) Gomez and Jose (Paula) Gomez; three sisters-in-law, Maria Gomez, Rosario (Jose) Madrigal and Elisa (Miguel) Figueroa.
She was preceded in death by her father, Vicente Becho Sr.; her mother, Rebecca Becho; twi brothers, David Becho and Vicente Becho Jr.; and her father-in-law, Jose Gomez.
Viewing and visitation will be held Friday, Feb. 11, 2011, from 3 to 8 p.m., at Smith Funeral Home in Sunnyside. Funeral services will be held Saturday, Feb. 12, 2011, at 10 a.m., at Smith Funeral Home in Sunnyside, with burial to follow at Lower Valley Memorial Gardens in Sunnyside.
Those wishing to share their memories or sign Maria's on-line memorial book may do so at www.funeralhomesmith.com
Smith Funeral Home LTD and Crematory in Sunnyside is in charge of arrangements.
More like this story