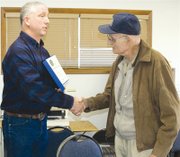 The South Yakima Conservation District Board of Supervisors met yesterday (Wednesday) to go over the agency's goals and priorities for 2011.
The board of supervisors decided to keep the agency's mission the same. The slogan reads, "Our primary goal is to promote the wise use, development and conservation of our renewable natural resources."
The South Yakima Conservation District's main priorities are water quality, erosion control, and water quantity and water reclamation, respectively.
The conservation district will continue to strive for the best water quality by continuing improvements by lowering concentrations of contaminants in surface and groundwater. To ensure this happens the board of supervisors mandated the district office to maintain contact with the Department of Ecology regarding the status of the Granger Drain fecal coliform TMDL and the Sulphur Creek & Lower Yakima sediment TMDL process.
District staff will also attend at least three informational meetings on nutrient management and new alternative methods and technology in this field.
To help maintain its second priority, erosion control, the South Yakima Conservation District will be proactive by keeping from being designated as a non-attainment area.
To do this the district will provide technical assistance and cost share assistance to between four and six producers to emphasize the high priority of resource protection caused by soil erosion due to irrigation. The agency will also respond to requests on wind erosion and dust issues in the Satus area. A plan to use inter-seed drill to decrease wind and soil erosion has already been completed.
The third priority, water quantity and water reclamation, will be bolstered by promoting new water storage sources and on-farm water conservation practices.
The board of supervisors intends to seek funding for irrigation distribution efficiency by making contacts and submitting grant proposals.
The agency will also maintain awareness of water storage issues by attending at least one meeting concerning water storage alternatives. In addition, the conservation district will maintain contact with Yakima Basin Water Resources Agency in an effort to obtain potential funding for water quality and ground water work.
Corey Russell/Daily Sun News
Chris Johnson, district conservationist with Natural Resources Conservation Service, presents Walter George (R) a conservation legacy award yesterday (Wednesday) at the South Yakima Conservation District Board of Supervisors meeting. The award, given to George...'for creating a Legacy of Conservation through his sustained, on-going efforts to protect and enhance natural resources on Washington's working lands.' George has been a part of the South Yakima Conservation District's efforts for the past 30-plus years. Johnson added that George has given countless volunteer hours to conservation efforts in the Yakima Valley.