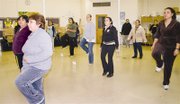 Women participating in Nuestra Casa's English as a Second Language (ESL) program not long ago asked the organization if it could provide a fitness class to help them improve their health.
The idea struck a chord with Blanca Bazaldua, Nuestra Casa's community outreach coordinator, and she explored the possibility of helping the ladies.
According to Sister Mary Rita Rohde, the efforts were first put forth in the evenings but attendance was not very high.
Rethinking the schedule, Bazaldua spoke with the women interested in a fitness class and it was decided the best time that fit the women's schedules was after ESL class.
For the past seven weeks the exercise class has been a success. There are 40 women who participate in the class, approximately 30 attend regularly.
Bazaldua said the fitness class doesn't just provide the women with exercise, which is instructed via videos. It also provides the women with nutritional information.
The class is free to attend and childcare is provided to make it easier for those who have children at home.
"We want them to look at nutrition and exercise as a health benefit," said Bazaldua.
She said the nutrition tips provided range from food portion control to drinking more water.
"We don't want the women to starve themselves," Bazaldua said, stating many believe they must deprive themselves to lose weight.
She said the women have a two-mile warm-up before switching to a video with a faster paced exercise regimen and as the class progresses so does the difficulty level of the videos.
Bazaldua said there may be other changes to the class when warmer weather arrives. In the summer months, for example, the participants may elect to meet at a later time in the day for evening walks.
Her goal is to help the participants stay motivated, finding fitness and healthy eating beneficial to their lives.
"We want them to realize they don't have to strain themselves," said Bazaldua.
The class meets every Tuesday and Wednesday at 11:30 a.m. in classroom 1 at the old St. Joseph's School.
Anyone interested in participating can do so and can call Bazaldua at 839-7602 for more information.
"The classes will continue as long as we have a minimum of 10 participants," she said.