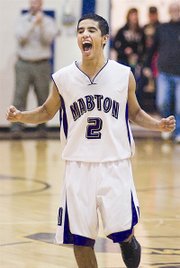 MABTON - The Mabton Vikings boys basketball team used its experience from earlier non-league games and its senior basketball players to hold off a determined Naches Valley team last night (Thursday) 51-49 in opening play of the SCAC District tournament.
"We showed a lot of heart tonight battling with a tough team," Mabton Coach Brock Ledgerwood said. "We have not really been tested since our non-league games against the west schools, so we were a bit rusty in tight games. In the end, we out hustled them and scrapped our way to a victory."
The Vikings jumped out to a quick lead against Naches Valley. Ledgerwood said his team came out of the gate defensively and got needed stops and steals. Although unable to convert on a few easy looks early in the game, Mabton still jumped out to an eight-point lead midway through the first period.
The Rangers called a time-out and that seemed to settle them down. They chipped away at the lead until they had narrowed the gap to just two points, 15-13 at the end of the quarter.
Mabton's defensive effort stayed strong in the second period and the Vikings were able to stretch their lead.
"We had a few times in the first half where we looked ready to really open up a lead, but Naches found a way to claw back in the game," Ledgerwood said. "I give them a lot of credit, they are a solid team and they battled us with everything they had."
Mabton led 26-21 at halftime.
In the second half the Vikings again opened a lead only to have the Rangers battle back. Both teams scored 16 points in the third quarter to keep Mabton's five-point lead.
In the final stanza, Mabton led 48-44 with four minutes to play and the Vikings couldn't buy a bucket, Ledgerwood said.
"I credit our defense for keeping us in the game when our offense wasn't clicking," he added.
The game came down to the wire. Tied at 48, Mabton's Carmen Johnson was fouled under the hoop with 35 second left. He hit one-of two to give Mabton a 49-48 lead.
The Viking defense then held tough and got a stop and then a Viking player was fouled. Josh Sanchez converted on one-of-two free throws that gave Mabton a 50-48 lead.
After a diving grab for the ball by Josh Strickland gave Mabton the possession arrow, Sanchez was again fouled, and again hit one-of-two to give Mabton a three-point lead.
Before the Vikings could start celebrating there was still a little drama that needed to play itself out.
With two-tenths of a second left on the clock Naches Valley's Derek Huck launched a shot from the 3/4 court line and was fouled by Kristian Carrasco, sending Huck to the line for three shots. He made the first, missed the second and then deliberately missed the third to give the Rangers a shot at the rebound and a tip. That happened, but the tip rolled off the rim.
Carrasco led Mabton with 17 points and four steals. Johnson added nine points. Jesus Huecias scored five points and recorded six assists and five steals. Lorenzo Sanchez added four points and Strickland had two points and four steals.
Naches Valley was led by Jeremy Gaudette with 18 points and 11 rebounds. Chris Walker added 12 points and eight rebounds for the Rangers.
Mabton (18-3) now moves on to the semi-finals of the SCAC District tournament and will play Goldendale on Saturday, Feb. 12, at 6 p.m., at Zillah Middle School.