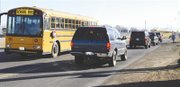 Parents in a rush to pick up or drop off their children from Sun Valley Elementary School or Sierra Vista Middle School on North 16th Street are often faced with a noteworthy dilemma - traffic congestion.
While traffic at and around schools is a common issue, the area around Sun Valley and Sierra Vista has created particularly strenuous conditions and the Sunnyside School District is hard at work looking for a way to alleviate the problem.
The neighboring schools have unique circumstances surrounding the issue - their school bell times are only ten minutes apart.
Superintendent Rick Cole says the district is partnering with the city to see if there is a way to move traffic more easily through the area.
"We are working on the problem," Cole said, "but I don't anticipate we can make major changes until the start of next school year."
Solutions for the traffic congestion range from road way conditions, such as adding signal lights or turn lanes, to utilizing a crossing guard at the railroad tracks along 16th Street to move buses along quickly.
But before permanent decisions are made, the district is looking toward its insurance carrier, Canfield Insurance, to conduct a study on traffic patterns around the schools to identify some of the major contributing factors to the traffic jam. The company has already conducted a similar study around Pioneer Elementary School.
For the time being, Cole says parents can help with the traffic congestion by dropping their children off at school earlier. A sudden surge to drop students off just before the bell rings helps contribute to the overcrowding.
Another important step parents can take is to have their children ride the buses.
There was some concern over the district's decision to bus high school and kindergarten students together. The decision was made because Sunnyside High School and Sun Valley Elementary School are the only two schools that have district-wide routes. All remaining Sunnyside schools have boundary determined routes.
Last year saw kindergarten students shipped to a boundary school, transferred to another bus and then transported to Sun Valley. Problems with children missing the transfer bus and an additional $80,000 for these extra routes aided in the decision to abolish this old system.
Cole says busing the high school and kindergarten students has been a success and he encouraged parents to give the buses a try.
The district will hold a meeting this Tuesday, Feb. 15, in the Sierra Vista Middle School gym. The meeting will start at 6 p.m. and is open to concerned citizens and parents.