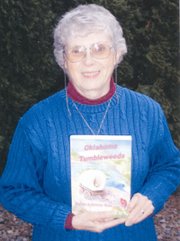 Marsha Schemmer Blake's Oklahoma Tumbleweeds is not a book about big ideas or big events. There aren't any famous American legends traipsing through the pages, or large battles against an embittered enemy. This isn't a book about how leaders are forged or legislation enforce.
No - what you'll find detailed in this historical non-fiction is an in-depth account of life in the mid-west around the turn of the 20th Century.
Blake, a resident of Zillah, transcribed recordings of stories told by her maternal grandparents - Arthur John and Hildred Lillian (Augenstein) Barrett - on their respective families as they created a life among Oklahoma's wilderness. Blake later turned the transcriptions into Oklahoma Tumbleweeds, a book that took her six years to write.
The details and honesty in the book are refreshing. This is not a Hollywood version of living out west. It is about hard life as a pioneer, living from out of a wagon, getting a homemade education and learning the lessons of life through trial and error.
The story begins with the Barrett family and how a chronic medical condition turned them into rootless nomads traveling through the harsh and unforgiving Oklahoma and Indian Territories.
The tales of young Arthur Barrett's life is interesting enough to keep a reader turning pages. From his crude but strangely thorough outdoor education to encounters with criminals and even death, Blake's retelling of Arthur's adventures is almost like listening to the elderly, wizened man speak.
She doesn't flourish the tales with needless metaphors and pretty language. Blake's writing style is succinct and straight forward, blending historical facts with Arthur's recollection of life in the wilds.
But Oklahoma Tumbleweeds is not a story for just anyone. This is first and foremost the retelling of Blake's family history. If your own family history bores you, then this most definitely is not a book for you. Like I said, this isn't a story of big ideas and events, this is the tale of one family and how they made it through a rough life.
People who are interested in the little details of everyday life in the pioneer era or have family history connected to the Oklahoma area should find this book an interesting read.
The only problem I could see with the book comes with the telling of Hildred's story. After Blake dedicates 180 pages to Arthur's life, we are suddenly transported to the Augenstein family for a short 13 pages.
After reading the single chapter dedicated to Arthur's soon-to-be wife, I really felt like the chapter disrupted the flow of the book. The story would have been better served if Blake had dedicated the entire book to Arthur's early experience right up to his marriage to Hildred.
I understand Blake's desire to give her grandmother some recognition, and to be fair the chapter had some interesting accounts, but she could have maintained the flow of the book by limiting those accounts to short vignettes in Blake's personal reflection section following the end of each chapter.
Blake used these sections to add details about her own experiences with the people in the story, to follow Arthur's family members as they made lives of their own and to trace her own discoveries about her family. The 13 pages on the Augenstein family would have fit smoothly into this section.
Oklahoma Tumbleweeds is available from Lulu Press by searching the title at www.lulu.com. You can purchase the book in either paperback or through electronic download.
But for a discounted and signed copy of Oklahoma Tumbleweeds contact Blake directly by writing to Marsha Blake, P.O. Box 811, Zillah, WA 98953.
Anyone interested in more information can also call Blake at 509-829-5766 or e-mail her at grandmablake.writer@yahoo.com.
More like this story