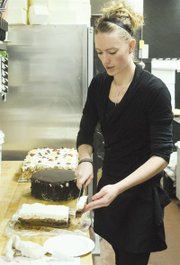 Valentine's Day is just around the corner and Bon Vino's Pastry Chef Joreen Mensonides is busy whipping up baked specialties for the big day.
One of the most popular requests she receives for specialty creations is her whipped cream cake. The rich dessert is European-inspired, as Mensonides' parents came to this country from Holland.
"As a child I always loved to bake," the 2001 Sunnyside High School Christian grad says. That interest translated into studying in a culinary program at Skagit Valley Community College.
For the past four years she's been the pastry chef at Bon Vino's, which she also owns along with chef Roger Hazzard.
She says being a pastry chef and business owner keeps her busy, whether it's a creating a bakery masterpiece, scheduling, helping at the front counter or mopping floors.
With Valentine's Day coming soon, Mensonides' attention is on chocolate for a Sunday brunch. Specifically, she has created a triple-chocolate terrine. It's cut like a cake and includes dark chocolate mousse, white chocolate mousse and milk chocolate mousse.
As for the most popular everyday items on the bistro's pastry shelves, Mensonides says brownies and "anything chocolate" seem to be the most popular with patrons.
She says her favorite thing about her job as a pastry chef is the creativity it allows.
The most challenging aspect, she says, is "knowing what's going to sell each day and keeping items fresh."
For those considering a career as a pastry chef, Mensonides says "being a morning person" is a good trait to have because of the early hours required.
She added, "You need to have a creative mind to be able to see what you're making before it's baked.