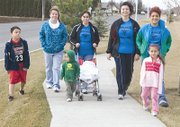 Sunnyside High School senior Alexus Alvarez has always been into athletics so she thought a good senior project would focus on health and fitness to get people active.
She is a cheerleader at Sunnyside High School, plays club volleyball and is also on the school's fast-pitch softball team.
She had three goals for her project. The first was to learn first aid, like taking pulses and blood pressure. She then taught a small group about health and fitness. The group was mostly elementary school students.
For her final phase of her senior project Alvarez held a Walk for a Cause this past Saturday at the Swofford & Halma Clinic in Sunnyside.
She put some advertisements up around her school to let people know about the Walk for a Cause.
People participating in Saturday's walk brought two cans of food to donate. The donated food will be given to the Sunnyside Food Bank.
The participants then walked for about a mile and a half to help raise awareness of how important it is to stay active.
The purpose of the event, Alvarez said, was to show people that they can use walking as a form of exercise.
Twelve cans of food were collected at Saturday's event.
"I think it was successful," Alvarez said. "I wish the turnout could have been bigger, but I'm happy some people came. I got to get my message out.