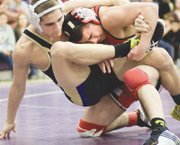 PASCO - The Sunnyside High School boys and girls wrestling teams will be taking a combined total of 16 grapplers to the Tacoma Dome this week for the Mat Classic state tourney.
The boys qualified eight wrestlers and three alternates to the 3A State tourney from Regionals, held this past Saturday in Pasco.
"I was hoping for eight, nine or 10 to State, so I'm very pleased with that outcome," said Coach George Paulus. He was especially happy to see the Grizzlies advance seven wrestlers to the championship round at Regionals. "Guys going in at one or two will face a lower-seeded wrestler at State," Paulus said. "We've never had that many guys make it to the Regional finals before."
He explained that alternates finished in fourth place at Regionals, just one spot out of a State berth. But they will still travel to Tacoma this week just in case an injury in their weight class opens a door for them to compete.
The Grizzlies were paced at Pasco by three individual champions; Rigo Valdez (130 lbs.), Josh Romero (145 lbs.) and Adam Peters (285 lbs.).
Valdez claimed the title by earning a 4-0 victory over University's Rielley Smith in the championship match. Romero earned his first-place hardware by decisioning Pasco's Cody Rush 6-4, while Peters won the top spot with a 3-1 victory over Pasco's Albert Torres.
Four Sunnyside wrestlers lost in the championship bout to claim second place honors. Jesse Barajas (103 lbs.) was pinned in 55 seconds in his title match by Eastmont's Fabian Wickham. In the 112-lb. weight class, Santos Guerrero was also runner-up when he was pinned in 1:31 by University's Tyler Clark in the finals. Sunnyside's Nathan Gonzalez (119 lbs.) earned second place honors when he was defeated in the title match 15-0 by University's Brandon Matlock. Sunnyside's other runner-up was Isidro Ramirez (135 lbs.), who was pinned in 1:16 by North Central's Mitchell Bocook.
Sunnyside's one third place wrestler at Regionals was Isaac Guerrero at 130 lbs. "He's a darkhorse kind of guy," Paulus says of Guerrero. "He was ahead in the semifinal by five points, but got turned over and pinned."
Guerrero rallied, though, to claim a State berth by outpointing Mt. Spokane's Sawyer Peicewicz 3-2 in the crucial third/fourth place match.
The Sunnyside boys' three alternates to State, all fourth place finishers at Regionals, are Miguel Guzman (189 lbs.), Franki Ochoa (215 lbs.) and Ely Gonzalez (285 lbs.).
Other Sunnyside placers at Regionals not advancing to State are Homer Romero (sixth at 103 lbs.), Daniel Guillen (sixth at 125 lbs.), Emmanuel Tejeda (fifth at 140 lbs.), David Vidales (sixth at 140 lbs.) and Lupe Mendoza (sixth at 171 lbs.).
While the Grizzlies did pretty much as Paulus had hoped, he was also pleased to see how well his squad did in team scoring, finishing a close second to highly touted University in the 12-team field.
"Everybody talked about how dominating University was, how they would wipe up the field," Paulus said. "They only got one more (to State) than us and we were in the team hunt until the very end." Sunnyside ended up with 218 points to University's 240.5 points.
"We pretty much shut up the people talking about University," he added. "I'm pretty happy with where we're sitting."
That means Sunnyside's goal of a State title is very much still in play after the grueling Regional tourney.
"We've got a shot, that's what we're looking for," Paulus said.
Also Saturday in the girls Regional tourney at Connell, Paulus said the Lady Grizzlies finished second to Warden overall with four qualifiers to State and one alternate. No team point totals were available.
Yunuenn Garcia led the Lady Grizzlies and claimed the girls only individual title, winning it all at 119 lbs. by pinning Mabton's Jesenia Meza in 2:54 in the championship round. Adeleny Pacheco (285 lbs.) was second for Sunnyside, as she lost in the title bout 6-3 to Mariela Cendejas of Mabton.
The other two Lady Grizzlies to qualify for State were Abigail Elizondo (140 lbs.) and Maria Olivera (152 lbs.), who both earned third place honors. Elizondo punched her ticket to State by pinning Makayla Meyer of East Valley Spokane in 4:01 in the third/fourth place match, while Olivera advanced by pinning Janet Carrilo of Brewster in 2:30 in the third/fourth place bout.
Sunnyside's alternate in girls wrestling at State is Evoni Alvarado (160 lbs.), who finished in fourth place after losing the third/fourth place match to Jacqueline Aoropezca of Warden in 1:40.
The Lady Grizzlies had one other wrestler place at Regionals, Lidia Gonzalez (125 lbs.), who pinned Jatender Veenstra of Royal City in 3:44 to claim fifth-place honors.