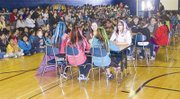 What do Too Many Toys and Bone Soup have in common?
No, they're not complaints or animated movies, they were two of the answers during a raucous Battle of the Books competition held in the Pioneer Elementary School gym last week.
The competition was for fifth graders at the Sunnyside elementary school, and featured teams given the challenge of naming the title of books based on one-sentence hints.
Cricket Van Pelt is a fifth grade teacher at Pioneer, and she said the teams were quizzed based on several books they had read at school.
The idea, she said, was to not only encourage students to read, but to add some excitement and reward during the Battle of the Books event.
As each hint was flashed on the big screen, team members had just a few moments to gather their thoughts and submit their answers in writing.
Besides the teams, the event also took time to ask the large group of students in the audience to try their hand at guessing the title of books based on a one-sentence hint.
Each time a sea of hands would be raised and applause given for the correct answers, expressing even more reward and enthusiasm for the books they'd read in class.