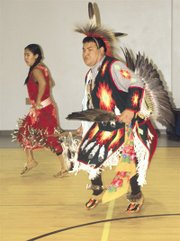 The wafting smell of Caldo de Pollo (chicken soup) greeted visitors to yesterday's Love Your Culture Carnival, held at the Sunnyside Community Center. The first-time event was sponsored by Sunnyside's Promise and Yakima Valley Systems of Care.
The Caldo de Pollo came free and piping hot, with a slice of fried bread, chips and salsa, and juice. The meal was just one of the things that drew more than 100 people to the community center yesterday.
Celeste Goulding, the interim community center director, said the event was an opportunity for people to attend a family gathering.
"There's something for everyone here," she said.
Groups like Nuestra Casa, Yakima Neighborhood Health, EPIC, the Center for Hispanic Health Promotion, First Friday's and more were on hand to give people information about services available. A total of 17 agencies turned out to educate people about the resources available in the Sunnyside community.
There was also entertainment. Children went to different tables to create crafts, get tattoos or play a game of Bingo.
The Sunnyside High School Mariachi band performed. The Wapato Indian Club brought several dancers and performed. Other entertainment included the Telexiktli dancers, Los Solecitos and the Grizzly dance team.
Goulding said she was very happy with the turnout, noting that it was a school day and a holiday. She said she hopes to put on similar events at least every three or four months at the community center.
"We're providing something fun that's also educational," she said.