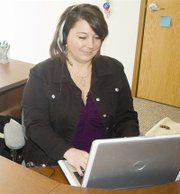 "I believe life experiences help us get where we are today," says Donna Fuller of Sunnyside.
Fuller's putting her life experience to use in the Joint Venture Success University she offers to help coach business owners.
For Fuller, the entrepreneural spirit started in earnest at the age of 14 when her mother left.
"I had to be very creative," she says of surviving on her own at a young age. "You learn to leverage what you have."
She says that attitude actually came to her even as a young girl. She remembers the money under her pillow from losing her first tooth, then the dollar signs she saw when seeing her grandfather take out his false teeth.
"With his teeth under my pillow we could be rich," she laughed.
She calls herself a "creative business builder," with the aim of helping business owners look at the big picture.
Fuller says one of the biggest mistakes business owners make is not connecting with others.
In the current economic climate, Fuller says many business owners are wary of partnerships, joint ventures, because of competition concerns.
"Look at the bigger cause insead of the dollars," she says. "Some are so concerned about the sale they don't make anything. Focus on the person and what you can do for them. The sale will follow."
As an example, Fuller pre-sold 400 memberships for a health club she established in Yakima.
That enabled her to fully outfit the health club's workout equipment. Eventually she sold 800 memberships in the health club, establishing it as one of the top 10 in the nation for that particular chain before she sold it.
The key, she says, was the joint venture approach. From the beginning she networked with diet centers in the Yakima area, offering discounts and passes to the owners of the diet centers as a way to market her new business.
As a business coach, Fuller generally consults with business owners on a three or six-month contract, and says she is frank in her assessment with what they need to do.
"I'm pretty direct, it's important not to beat around the bush."
Fuller has consulted businesses as far as away as Iceland, but says she's now trying to help businesses closer to home.
"I can see how Sunnyside has a big need for this," she said. "Change is hard, but we need to work together instead of closing doors, collaborate with other businesses in our area."
Fuller does much of her work over the phone or on-line with webinars. She recently completed one webinar for more than 500 women in business.
Tomorrow, Wednesday, Fuller is offering a free webinar on joint ventures from 6 to 7:30 p.m. The webinar's focus will be on contracts.
Register for the webinar at www.yourjvsuccesscoach.com and information will be provided on how to call in or connect with the webinar over the computer.
Fuller can also be reached at 305-1567.