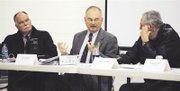 WAPATO - The Yakima County Gang Commission met yesterday (Tuesday) in Wapato to discuss a number of issues, ideas and grants available to the county in their fight against gang activity.
Harold Delia, representing the Yakima County Court system, revealed to the commission that they were currently working on two grants to aid the Yakima Valley.
The first grant is a combination grant between Yakima County, the city of Yakima, the city of Sunnyside, ESD 105 and the Yakama Nation.
The $250,000 federal grant is not to develop services, Delia warned. The money is intended to be used to create three gang coordinators in order to do strategic planning across the county. It would help build an infrastructure, collect data and conduct surveys to better direct anti-gang activities.
Each coordinator would be responsible for a section of the county. A Sunnyside coordinator, for example, could cover Grandview, Mabton and other Lower Valley communities, while another coordinator in Yakima would cover Union Gap, Selah and Moxee.
Other Yakima County locations, such as White Swan, the Yakama Nation, Tieton and Naches would also get support and guidance from these coordinators.
It was revealed the commission has a good chance at receiving this federal grant because of all the cities and local agencies involved in the grant. It shows unity and a clear plan to use the money in a way that will impact a lot of lives.
Another grant the commission is seeking will be through the Gates Foundation. The purpose of this $200,000 grant would be to hire two ex-gang members who will track and interact with children who are on probation.
Delia explained that kids on probation struggle to get involved in local organizations that can keep them from returning to gang life. These hired ex-gang members can make contact with these students and introduce them to extra-curricular activities, churches and other agencies that can help them.
Delia said there is no one better suited for this job than ex-gang members.
The grant would be for 18-months with an option for more. Receiving the grant could also open the gang commission to more grant opportunities from the Gates Foundation.
The commission also discussed anti-gang legislative action currently in the works in Olympia. Alan Schmid from Selah expressed concern about the state's apparent lack of concern with the very serious gang problem. He wanted to know why they were not addressing the problem when the west side of the state must have problems of their own.
"There is an education process in getting people to step up," Sheriff Ken Irwin said, explaining that some people don't fully understand the severity of the problem when they do not deal with it directly.
Delia added that the population in Yakima County is significantly smaller than counties on the west side of the state. Gang activity and its impact are more obvious and visible when the population is smaller.
The commission concluded with a report from Wapato police gang specialist Jacob Murphy. He detailed Wapato's gang problem.
Wapato Police Chief Richard Sanchez explained that each city is different and has its own unique set of issues to address.
Murphy went on to describe the gang activity they've been made aware of, including gang members from other Yakima County cities who work with Wapato gangs to commit crimes. He also added that they were recently made aware that some gangs, namely those associated with the North side gangs, may be dabbling in the occult.
Along with sharing information about gang activity, the commission was asked to get people to visit www.yakimacounty.saynotogangs.com.
There is a survey for community members on the home page that they hope more people will take. It will allow the commission to better understand the concerns Yakima County citizens face and the gang activity that they see around them.
Emma Fierro/Daily Sun News
Members of the Yakima County Gang Commission discuss grant opportunities yesterday (Tuesday) at a meeting held in Wapato. Picture here (L-R) is County Sheriff Ken Irwin, Harold Delia from Yakima County Court and Alan Schmid from Selah.
More like this story