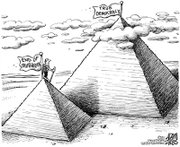 Congratulations people of Egypt. After a mere 30 years of oppression, having your country as the president's personal piggy bank and plenty of religious-zealotry-fueled villainy, you managed to cast aside Hosni Mubarak.
On the plus side, you did this largely through non-violent means - mostly by standing in the street and rioting politely. On the negative side, as a people, you seem more than willing to trade this evil, thieving dictator for another one or some even worse religious nut job.
America, of course, did an awful lot to support Mubarak, mostly because Egypt has always been friendly to Israel (friendly in the way you hung out with the weird kid in fifth grade because your mom made you). Of course, not openly vowing to destroy Israel and actually believing that Jews have a right to not be murdered because they believe in a slightly different flavor of religion are entirely different things, but when dealing with the Arab world an ally is apparently anyone who doesn't openly threaten you.
Though Egypt has long-pretended that Mubarak was a democratically elected leader, the elections had less validity than American Idol voting. In addition, during Mubarak's entire reign the country has been living under "emergency law," which legalizes censorship, outlaws any non-government political activity and allows the government to imprison anyone it wants for virtually any reason
In addition to this specific governmental tyranny Egyptians live under the same preposterous religious restrictions that all Muslim nations abide by. Say a bad word about Allah or make a joke about Mohammed and you're likely to be stoned to death. Make the mistake of being a woman who expects the rights we give a house cat in the United States and, well, you will learn quickly where you stand.
Currently, Egypt still lives under "emergency law" and the military has taken over - the same military that propped up Mubarak and has held an awful lot of power. The military leaders say they support democratic elections in about six months, but getting a military to leave power is a lot like the process it took to get Larry King to step down at CNN.
Though there's a lot to celebrate in Egypt finally getting rid of its dictator, the country's people have done very little to show that they want actual democracy. Democracy means a total freedom to believe things that aren't popular. It also means having other really unpopular things in the Muslim world like free speech and free press.
In a true democracy women have equal rights and Jews get to vote, too. In a democracy you can wear revealing outfits, listen to pop music and not go to the mosque. You can also kick back with a beer and a rack of pork ribs while you watch blasphemous television programs.
I'll celebrate Egypt when its people fight for real freedom. This wasn't a revolution, it was a trade - one mean dictator for a few nicer ones who still oppress the people, but less so.
- Daniel B. Kline's work appears
in more than 100 papers weekly (dan@notastep.com).