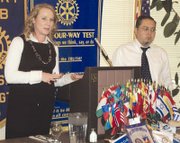 Harrison Middle School Assistant Principal Julie Perez and Sierra Vista Middle School Assistant Principal Charlie Diaz were the guest speakers at Monday's Sunnyside Noon Rotary Club and explained to Rotarians a new grant the school district has received aimed at improving graduation rates.
The High School Graduation Initiative is a $5 million grant that will be given out over five years. The grant will be shared by the White Swan, Mabton and Sunnyside school districts.
The goal, both school administrators said, is to establish a collaborative culture that promotes student achievement and ensures that each student will graduate.
Perez said student learning communities need to be established to provide academic and social support, as well as identify and implement structures that support the student learning communities.
"We're starting to identify students now," she said. "We'll have a list of students that we will track through high school."
An F-list will be looked at to see which students are failing. The departments where most of the F-grades originate from will also be looked at to find out what can be changed or improved.
The grant was awarded at the end of 2010 and both Perez and Diaz said they are looking into what the district currently had in place.
"We want to align our resources we already have, then find gaps and build programs for those gaps," Perez said.
She used school counselors as an example.
"What can they do more specifically to support the students?" she asked.
Both hope to establish a systems-wide approach to establish research based systems of social and academic support for each student. One of the first things the two have done is bring in Dr. Donna Beegle, a poverty expert, to help change the parents thinking about their children's education.
Perez said Beegle will do a competency assessment with students, teachers and parents to best come up with a plan.