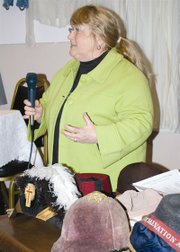 PROSSER - Cheryl Pira of Sunnyside has been collecting vintage clothing for approximately 40 years. Her longtime fascination with what some might view as throwaways is a treasure to her.
At Tuesday's Lower Valley Christian Women's Connection meeting in Prosser she said, "There are many ways to enjoy life...the Lord has given us interests and my interest in vintage ties led to a clothing collection."
Pira said she enjoys finding some historic item, such as a turn-of-the-century (20th century) swimsuit. The one in her collection is worth more than money. It is a testament of the past.
She said she first began collecting vintage ties when hunting the tables at yard sales as a youngster. "I love the ugliest, most unusual ties," she said.
Pira's collection has grown to include hats, shoes and other attire worn throughout history. She has in her eclectic pieces a Knights of Columbus hat and robe once owned by Clayton Speck, the founding owner of Sunnyside's C. Speck Motors.
Pira hasn't limited her collection to items found at yard sales and estate sales alone, although she said many pieces were found at amazingly low prices.
She has in her collection an heirloom baptismal gown that once belonged to her great-grandmother, as well as her mother's nightgown worn on her wedding night.
Pira has researched history because of her many finds and she said the clothing reveals a trove of historical treasures.
She has learned in her research women of 300 B.C. wore hats, for instance. The purpose of the straw hats worn at the time was to keep the sun from their eyes. Later, men were the primary wearers of hats, mainly for military purpose. Hats, said Pira, were often a sign of prestige and wealth in history.
The shoes she has collected tell another story themselves. Many of the shoes worn were much narrower, although some have characteristics of today's fashion. "Their feet must have been very narrow and they must have been much thinner," Pira said when holding up a pair of bridal shoes from more than a century ago.
Pira said clothing like that which she has collected has been thrown away throughout history. She feels it should be cherished and saved because it tells a story...the story of the past.