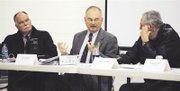 YAKIMA - The Board of Yakima County Commissioners entered into an agreement with Sunnyside Community Hospital at yesterday's weekly commissioners meeting.
The agreement calls for the hospital to provide staff to provide clinical instruction to Yakima County Department of Emergency Medical Services personnel.
The instruction will focus on the emergency department, operating rooms and post-anesthesia recovery.