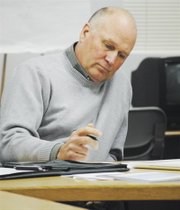 Last night's Sunnyside School Board retreat focused a great deal on reviewing their work together as a board and as individuals.
The school board first looked at an evaluation conducted by Ventures for Excellence. Each board member was interviewed by Vic Cottrell from Ventures for Excellence, and was asked the same 36 core questions focused on their purpose as a board member, their relationships among each other and with the school community, and decision-making and accountability.
The board scored well with Venture, especially in understanding their purpose and having important goals.
When asked by Cottrell about their goals, board members emphasized student achievement and a desire to advocate and communicate with students and the community. Cottrell revealed in his results that the board is "focused in making sure they are accenting the power and importance of a quality education for all students in the district regardless of racial, linguistic or family background."
He continued by saying, "We are increasingly impressed with the quality of people on the board as well as the ways in which they have continued to grow and develop..."
The board then moved on to review their own personal evaluations which, above all else, revealed the board's strong desire to do even more than they have already accomplished.
While the board has been recognized as a board of distinction by the Washington State School Directors Association, they have selected areas in which they think they can improve upon.
Director Rocky Simmons says he'd like to be more involved in the schools and more visible in the classrooms and at events.
Simmons added he sees his fellow board members committing a great deal of time to their assigned buildings and committees, but his work often limits his availability.
Meanwhile, Superintendent Rick Cole commended the board's work with the community and their efforts to become more visible in the community. Working on the school board is a huge time commitment already, he said, but every member of the board makes a real effort to become more involved and engaged with staff, students and parents.
Cole also highly praised the board for its work with data and setting goals based on that data.
The board has received regular updates on student achievement at each school board meeting and they have used that data to measure the success of their programs and policies. This method of truly incorporating and utilizing data is unique among school boards, according to Cole, and the Sunnyside School Board's methods are being replicated by other school districts.
To conclude their evaluation discussion, the board took a survey to identify any areas they may view their teamwork as dysfunctional. Cole was pleased to see that the board works together exceedingly well as a team, though much was discussed about transitioning new board members into the group.
Director Michelle Perry is the newest board member, but because of the amount of work the board has been doing with the Summit and Merit grants, the changes at all the schools and their heavy work with data, the board generally agreed Perry had a lot of work to catch up on when she joined the group.
"Every time you get a new board member the board changes," Board Director Steve Carpenter said. "A new member on the board changes the dynamics."
But in the end, it was all about building relationships and learning all the nuances and quirks about the other board members.
The key to a successful team, Cole said, is that regardless of any bad days or exchanges, the board members are able to work through their problems and let things go.
The school board will hold a second retreat later tonight (Thursday).