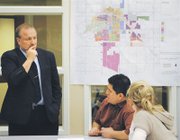 Weather, bell times, school proximity, roads and driver education were all things listed as causes of the massive traffic congestion motorists' face when traveling North 16th Street near Sun Valley Elementary School and Sierra Vista Middle School.
Parents, school district representatives and others gathered to discuss the situation and potential solutions in the Sierra Vista Middle School cafeteria this past Tuesday.
Schools Superintendent Rick Cole facilitated the conversation and began by describing the problem. Parents and buses struggle to get into the schools' parking lots to pick up or drop off their children. The traffic congestion can last for approximately half an hour and traffic can backup as far as Les Schwab along South 16th Street.
Currently, the school district plans to conduct a bell time study. Since Sierra Vista and Sun Valley have a bell time that is only 10 minutes apart in both the morning and afternoon, something they did not have last year when traffic was more manageable, the district will be looking at other bell opportunities.
However, Cole did reveal that two important reasons resulted in their decision on this year's bell time.
The first was that students at Sun Valley Elementary School were not receiving the state's required 1,000 in-class hours; the second was that the busing system used last year, where students were bused to their boundary school and then transferred to a bus to go to Sun Valley, cost the district an additional $80,000 a year and created opportunities for kindergarteners to miss the transfer bus.
This year has kindergarteners and high school students traveling together, a fact that the district was concerned would deter parents from sending their youngsters on the bus. However, bus driver Joe Partch was present at the meeting and described the arrangement as "just awesome."
He went on to explain the high schoolers were well behaved. As for the kindergartners, he said, "I just sit the kindergartners in the front and they're just fine."
But with 600 students at Sun Valley and 700 at Sierra Vista, there are more concerns than just who is riding the bus and who is not. It was revealed that much of the traffic congestion comes from parents themselves.
Zoe Officer, a parent of a Sun Valley student, explained that she has seen parents park in handicap parking spots and traffic spill out onto 16th Street and clog the roadway as parents wait for a spot in Sun Valley's drop off and pick up zone.
Drivers acting in a courtesy manner, allowing buses into the line and using the four-way stop at 16th Street and North Avenue, correctly can help alleviate the traffic and stress associated with it.
But one of the biggest concerns for everyone involved centered on the stop light at the 16th Street and Yakima Valley Highway intersection and the railroad crossing just south of it.
Because every bus driver is required to stop at the railroad tracks, open their doors, put out their stop paddle and listen for a train before preceding across the tracks, only one or two buses can cross the intersection during each green light.
Sunnyside's Public Works Director Jim Bridges discussed that the city will be looking into that intersection and how they can improve the traffic flow, including the possibility of lengthening the green lights to allow more buses, and other traffic, through at once.
Cole added that the district and city are working on getting a flagger to stand at the railroad crossing and wave buses through without them stopping, though they need to be assured such a decision would pass state approval.
Flaggers at the railroad crossing and warm spring weather, where more kids will be walking to school than getting rides, should allow parents to see better traffic conditions toward the end of the school year.
But for the time being, the district is open to ideas on how to fix the problem as they turn toward the city, their own research and a study from their insurance provider to come up with some long lasting solutions.