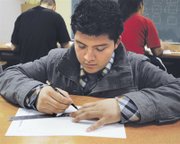 Sunnyside High School student Juan Gonzalez has always viewed art as just a hobby, but recent recognition and praise for his work, which appears on the flyers for this year's Show 'n Shine car show, may have changed his mind.
Gonzalez says he started drawing after his kindergarten teacher gave him an assignment to draw his experience with a hot air balloon that visited his school. It was the first time Gonzalez realized how much he enjoyed drawing.
With the exception of basic art projects in elementary and middle school, and a little guidance from his uncles, Gonzalez has been entirely self-taught.
This year, his senior year of high school, is the first time he has taken an art class. His instructor, Saul Martinez, said, "Juan's art has shown amazing talent and potential."
Martinez added that the first couple of weeks he had Gonzalez in his class, he was just blown away by his work.
Gonzalez describes his artwork as "free and diverse." He likes to look at something, like a car, and replicate it on paper, but he always adds something to make the work uniquely his.
Cars, he says, are his favorite thing to draw and he will go through phases where he draws certain kinds of cars. Right now, he really enjoys drawing Japanese cars like Hondas and Acuras.
For the Show 'N Shine flyer, Gonzalez drew a 1967 Nova, a 1969 Camaro and a 1933 Ford. He says he got the ideas from Good Guys, a car focused magazine.
Gonzalez also enjoys graffiti inspired artwork. He describes it as "blowing up words and making it your own."
But some art has challenged Gonzalez. In Martinez's class, he began work on a project inspired by the video game Halo.
"It was somewhat challenging because I had to do parts free hand." He explained free hand is creating something from his own imagination, without an image to replicate, like drawing a car.
But replicating everything isn't always easy for Gonzalez. He also says he struggles to draw popular cartoon characters like Snoopy or the Simpsons. When it comes to work like this, he'd rather create his own.
Martinez's art class has also taught Gonzalez a great deal about shading and putting things into perspective. He also discovered he enjoys creating grid art.
"I believe if he keeps working at it he's going to be an awesome artist with a big future ahead of him, if he wants to go down that avenue," Martinez said.
Gonzales, meanwhile, is not certain if he'll continue with art on any professional level. He really likes cars and plans to train as a mechanic, though he has considered learning car detailing, as well.
But for now, Gonzalez is just enjoying his art and views its selection for the Show 'N Shine flyers as just a nice bit of recognition.
The Sunnyside High School Show 'N Shine car show is scheduled for Saturday, March 12, at Clem Senn Field.