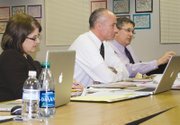 The Sunnyside School Board last night concluded its two-day retreat by reviewing goals of the district's leadership team.
Human Resources and Payroll Director Debbie Holwegner opened the meeting with her goals.
She said she has this school year taken on extra responsibilities in technology and communications. Because of that, Holwegner has stressed teamwork, skill development and delegating duties among staff members according to individual strengths.
She said she has also set a personal goal. She wants to read The Secret: What Great Leaders Know and Do to further develop her leadership skills.
To improve the service of her department Holwegner has implemented a plan to make inquiries of staff easier. School district staff can submit an inquiry via Wiki pages on the district's website and those inquiries can be directed to a member of her department for response.
"We're working really hard to get information out," said Holwegner, stating her team is implementing a program that takes them "on the road." Members of the human resources and payroll department visit the different schools for accessibility reasons. On-site staff at the schools can field questions from the educators and support staff of each school.
Because Holwegner also oversees personnel and recruiting, she said she also has set a goal of recruiting and retaining staff committed to the district.
"A big issue we are really working on is a new teacher evaluation plan," she told the school board members.
She wants to develop a hiring check package that can be used when administrators are reviewing potential candidates for employment. That package would provide administrators a consistent element for hiring.
Next to outline his goals was Finance Director Jeff Loe, just hired this past year.
"I'm still in a steep learning curve on how I can help meet district learning goals," he told the school board.
He said he oversees transportation, nutrition and finances for the district.
Because Loe has been engrossed in his work, he said he is evaluating ways in which the central office staff can best be utilized to facilitate the needs of the district.
He has been evaluating staffing needs in the three departments and looking at how the staff can keep within the budget.
"I am also trying to understand costs," said Loe, using copying costs as an example of an expenditure that he believes can be reduced.
He said he believes it is important to develop strategies to change from past practice to service-based practices.
"My leadership role is about student learning and I want to make sure the principals have the resources they need and want," said Loe, telling the board he believes it is important to maximize grant funding.
He said he is also evaluating the district's needs by looking at ways to retain reading coaches secured through American Recovery and Reinvestment Act funding.
That funding, said Loe, will go away and he is examining other funding sources. "I feel it is important to look at sustaining positions rather than letting them go away as funding changes," he said.
Next to outline his goals was Assistant Superintendent Brian Hart.
"My whole area is to focus on student achievement," he told the school board last night.
Hart said he has been working on curriculum guides for the schools to ensure alignment throughout the school district, but the work is not his alone. He said many staff members from throughout the district, including principals and teachers, are involved in the process.
Curriculum guides for science, physical education and the fine arts will be available for the 2011-12 school year, according to Hart.
He said the curriculum guides for writing, social studies and language arts are anticipated for completion in time for the following school year.
"I found success involves principals and teachers," said Hart, crediting the Sunnyside School District educators for working together.
The curriculum, he said, does not always meet standards. Together the staff is pouring through the materials to eliminate unnecessary content to allow educators to focus on content necessary for meeting state standards.
Superintendent Dr. Rick Cole spoke regarding the issue. "Part of the process is eliminating the clutter," he said,
Hart continued detailing his goals, stating he has assembled a math leadership team focused on math achievement and Cole told the board it was not an easy task for Hart to get the team together.
"But they own the work," Cole said.
Hart picked up the conversation and said he feels more emphasis needs to be given to English Language Learners and special education students. Those, he said, are the students in need of attention.
The school district has not been effective in helping those students meet educational standards and Hart said it is going to take a team effort to help those students.
Following the goals detailed by Hart, the school board reviewed first readings of a cash reserve policy and a policy allowing the superintendent to approve contracts that are normal and routine.
The Sunnyside School Board was also provided a draft copy of a safety and security plan for the district.
Curtis Campbell, the school district's media spokesperson, has taken on responsibilities involving safety in the school district.
He said he developed a draft of a safety and security plan to align the plans throughout the district.
"The current draft is very rough and hasn't been fully developed," Campbell told the school board.
Elements of the plan cover protocol for prevention, preparedness, response and recovery.
Last night's retreat ended with a brief update on the Summit/Merit reports.
Cole told the school board recent evaluations were all positive.
The reports were provided to the school board members and Liaison Vicki Bates' report included information from students at Sunnyside High School. She wrote in her report, "In a meeting with seven Renaissance student leaders, four of the seven speculated they may not have graduated this spring if it were not for the new monitoring and support systems put in place this school year. Wow, what a tribute!"
The school board was advised by Cole there are several Summit/Merit meetings on the calendar scheduled in the coming month, but the recent reports are encouraging.