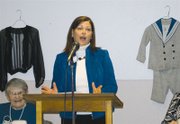 PROSSER - Cindee Henderson of Hermiston, Ore. is afraid of two things, snakes and the dark.
This past Tuesday she shared with those attending the Lower Valley Christian Women's Connection meeting in Prosser why she fears the dark and how letting go of the past has allowed her to live more freely.
Henderson's fear of the dark began at a young age and she often tried to hide it. While at slumber parties she would mask her fears with the use of flashlights. At camp, she would tremble at the thought of ghost stories by the campfire and celebrated when returning to the safety of her cabin.
She told those at yesterday's meeting she believes her fear of the dark has something to do with her mother's lack of demonstrative affection. "She insisted on being neat and clean," said Henderson.
Add to that the lack of physical affection, her mother's constant attention toward Henderson's older sister and the young Henderson felt unloved.
She explained she did not realize as a youngster that her mother lavished attention on her sister because her sister had epilepsy.
"Those things just weren't explained to me back then," said Henderson.
Her lack of understanding and hunger for love and acceptance led Henderson to make choices in life that weren't healthy.
She said she sought love in unhealthy relationships and comfort in food.
Henderson had a problem with her weight beginning in sixth grade and said it only ballooned when she experienced rejection.
She met and married her husband, whom she said has always been loving and accepting. "He's always seen me as beautiful, but I refused to believe it," she said, stating her weight problem continued for many years.
The irony, she said, is that she chose to live in darkness and she did not believe her darkness showed.
"In my mind, I was a healthy fat person," said Henderson, sharing it took a speaker at a conference she attended with a group of friends to break into her version of reality.
She admitted she didn't believe she would learn anything at the conference because she thought she knew everything there was to know about diets. "I was there to have fun with my friends," she said.
The featured speaker, however, burst her bubble and confronted her. He sat her down and asked her how she could, as a Christian, feel she had the right to "tell God she was in control of her body."
He told Henderson she was telling God she knows best.
"That confrontation brought me face-to-face with my sin," said Henderson.
She said she accepted the fact that she had to make changes in her life and she took steps to make those changes. She began eating healthy and exercising. Her husband joined her in the effort and the couple planned a backpacking trip.
Henderson, however, backslid. She said she let life get in the way of her new routine and began gaining the weight she had lost.
The backpack trip served as a testament that she wasn't prepared for extreme physical demands on her body.
"But, God showed me many beautiful things I wouldn't have otherwise seen," said Henderson, stating the trip made her rededicate herself to losing weight.
When she had difficulty losing that weight, however, she contacted the speaker from the conference she attended a few years prior.
"He told me something from my past was holding me back," said Henderson.
She said she had to evaluate her life and find out why she was using food for comfort.
When Henderson did that, she was able to turn to God for help. In doing so, she discovered He would be her light in the darkness.
"I was the one keeping the shackles on and keeping myself in a perpetual cycle of defeat," she said, stating she has since allowed Jesus to become her flashlight and leads an active lifestyle.
"I have lost 100 pounds," Henderson said, advising those attending Tuesday's meeting to allow the Lord to be in control of their lives, as well.