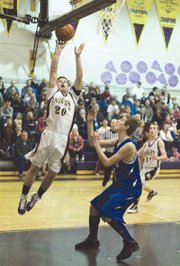 MABTON - The Sunnyside Christian boys basketball team won its 10th District championship in the past 13 years this past Friday night in Mabton with a 67-30 thrashing over Lyle/Wishram.
The win puts SCHS in a Regional/State match-up against Moses Lake Christian this Friday, Feb. 25, at Eastmont High School in East Wenatchee. A win will advance the Knights to the eight-team State tournament in Spokane the following week. A loss would force the Knights to play a loser-out game on Saturday for the right to advance to Spokane.
Last Friday night's game started out a bit slow on the offensive side. Sunnyside Christian led 2-0, then 4-0 and then 4-2. It stayed that way for a while with both teams having chances to score but neither being able to convert.
That's when the Knights' Trevor Wagenaar stepped up. He stole the ball twice for two easy lay-ups, then got another basket as he ignited the Knights to a 12-0 run to end the first quarter with SCHS up 16-2.
That would be as close as the Cougars would ever get as SCHS used its athleticism to blow the game open.
"We just blitzed them," SCHS Coach Dean Wagenaar said of his team's second quarter performace. "We played smart basketball and made them make the mistakes."
The Knights recorded 17 steals in the game and all but one of them came in the first half. Eight of those steals came in the second quarter, which allowed SCHS to easily outscore the Cougars 21-5 for a 37-7 halftime lead.
In the locker room Wagenaar said his speech was all about focus.
"That's all we talked about," he said.
SCHS came out on fire to start the second half, jumping to a 43-7 lead, then a 51-13 lead and finally a 53-13 lead, which forced the 40-point mercy rule and allowed the time clock to run continuously.
The Knights outperformed the Cougars on the boards, grabbing 27 of them, seven offensive, to Lyle/Wishram's 17, five of them offensive rebounds.
SCHS shot 27-of-45 from the field to the Cougars' 9-of-31.
The Knights were led by Trevor Wagenaar with 14 points, five rebounds, four assists and four steals. Alex Brouwer, Steven Bosma, Brandon Broersma and Steven Broersma each added nine points. Kevin DeJong added eight points, Ryker Van Belle had six points and Jackson Haak recorded three points.
The Cougars were led by Jonathan Von Ahn with 10 points.