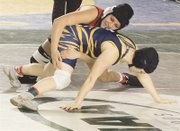 TACOMA - One of Sunnyside's four female State qualifiers made it to the medal stand during the girls State wrestling tourney this past Friday and Saturday at the Tacoma Dome.
Maria Olivera (152 lbs.) earned that medal and she did it the hard way, losing her first round match in a technical fall to Hanna Baron of Kelso.
That meant in order to medal, Olivera would have to win her next two matches on Friday. She did just that by pinning her next opponents in less than a minute. First up was Inglemoor's Olivia Burton, pinned in 49 seconds. Olivera then punched her ticket to the medal round by pinning Highline's Amy Lopes in 47 seconds.
That set the stage for Saturday's seventh/eighth place match, which Olivera lost in 22 seconds by a pin to Desiree Harms of Riverside.
George Paulus has been coaching wrestling at Sunnyside for more than 20 years, and he said getting a medal after losing your first match is a tough chore.
"You're facing elimination after each match, you've got a long road," Paulus said. "She handled it pretty well, surviving that first day. Most kids if they lose that first match they're in trouble."
Of the Lady Grizzlies' four qualifiers, Abigail Elizondo (140 lbs.) was the only other to win a match. She won her opener, 10-8 over White Salmon's Sarah Gibson, before getting pinned in her next two matches to finish out of the medals.
Sunnyside's other two qualifiers, Yunuenn Garcia (119 lbs.) and Adeleny Pacheco (285 lbs.), both lost their first two matches and ended their tourney early on Friday.
As a team, the Lady Grizzlies ended up with nine points, to finish 37th out of 97 schools. Sedro Woolley claimed the girls title with 72 points.
"I think the girls were a little shocked and awed about the situation," Paulus said of competing on the state's biggest stage.
Looking ahead, there's reason for optimism for the Sunnyside girls, as two of their four State qualifiers - Elizondo and Garcia - will return next season.