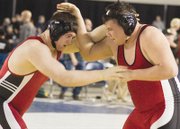 TACOMA - "I'm steppin' into the Twilight Zone, this place is a madhouse," Golden Earring's Twilight Zone blared during warm-ups before State semifinal wrestling action this past Saturday at Mat Classic XXIII.
Sunnyside, it turned out, was indeed in some kind of twilight zone at the Tacoma Dome, as all five of its semifinalists in the 3A State tourney went down to defeat Saturday morning. That prevented the Grizzlies from advancing any wrestlers to the championship round.
The Saturday swoon also doomed Sunnyside's hopes of winning its first State team title in 30 years. The Grizzlies were just 12 points back of the leader after Friday's action but fell all the way to sixth place at the end with 81.5 points, well back of overall team champ Enumclaw's 145.5 points.
The sixth-place finish also prevented Sunnyside from bringing home a team trophy, as only the top four squads were presented hardware.
"We're not happy with the result, it's disappointing. Our hopes were a little high," said Coach George Paulus. "We were real hot on Friday, but we cooled down."
In fact, the Grizzlies were so hot on Friday that at one point they were briefly in first place in the team standings.
All eight of Sunnyside's State 3A qualifiers won their first round matches Friday morning. Five of them won in Friday's second round to advance to the semis, while the other three: Nathan Gonzalez (119 lbs.); Santos Guerrero (112 lbs.) and Isidro Ramirez (135 lbs.) lost their next two matches to finish out of the medals.
Sunnyside's five semifinalists were: Jesse Barajas (103 lbs.), who moved to the semis after scoring a pin in 3:11 over Mercer Island's Jacob Pruchno; Rigo Valdez (130 lbs.), who advanced to the round of four with an 8-0 victory over Peninsula's Casey Larson; Isaac Guerrero (130 lbs.), who reached the semifinals with a 9-7 overtime win over Garrett McDaniel of Kelso; Josh Romero (145 lbs.), who advanced in a 15-5 romp over Justin Rush of Bonney Lake; and Adam Peters (285 lbs.), who advanced out of the quarterfinals with a pin in 5:43 over Drake Pettit of Kelso.
It all was enough to give Grizzly fans hope of individual State champions and even a team title.
It was not to be as first one Grizzly and then the next went down in the semifinals. The first three wrestlers lost handily by a pin (Barajas), an eight-point beat down (Valdez) and yet another pin (Guerrero).
Romero and Peters provided Sunnyside's best and brightest hopes of getting a wrestler into the championship finals. But both lost by questionable penalty points awarded in the final seconds of their respective semifinal matches.
For Romero it was a heart-breaking 8-7 loss to eventual champ Miguel Salamanca of Camas in triple overtime. There were four controversial calls in the match and all went against Romero.
First there were two apparent takedowns, one in regulation and one in the first overtime that the official waived off. It got worse, though, as in the second overtime Salamanca was awarded a point to tie the match 7-7 when he accused Romero of grabbing his head gear.
"The official believed what the opponent said to him about Josh grabbing his head gear and gave him a point. Neither official saw it, the kid whined and cried, and they gave him a point."
The final insult to Romero and the Grizzlies came in the third overtime, when he received a third caution for starting before the whistle. The third warning gave Salamanca a penalty point and the match.
"Josh had been warned a couple of times about an early start, but with all of the whistles all over the place the officials don't call that most of the time," Paulus said.
Next up was Peters in the 285-lb. semis and, too, was apparently victimized when he was called for stalling with just five seconds left in the match to give his opponent, Josh Mitchell of Mt. Si, a penalty point and a 2-1 victory. Mitchell ended up the champion for the weight class in the 3A ranks.
"It was utterly ridiculous," Paulus said of the late call. "The whole thing just left a bad taste in everyone's mouth. I feel bad for the kids."
Despite the adversity, Sunnyside's five semifinalists actually rebounded and collectively won three of their final five matches. After losing the semifinal matches, all five ended up with top-five hardware in their respective weight classes.
Peters rallied to earn third-place honors with a 5-2 victory over O'Dea's Cody Fulleton in the third/fourth place match.
"Your emotions are crushed," Peters said of the semifinal loss. "But you have to come back and I'm glad Josh and me came through for third place."
Romero claimed third-place honors by edging Pasco's Cody Rush 3-2.
Barajas brought home a fourth-place medal when he was pinned by Eastmont's Fabian Wickham in the third/fourth place match.
Valdez also claimed fourth place honors when he lost 7-4 to Hunter File of Enumclaw.
Sunnyside's other top-five finish was claimed by Guerrero with a 5-2 win over Kelso's Garrett McDaniel in the fifth/sixth place match.
Despite a disappointing overall team score, Paulus said he was happy to see Romero and Peters rally for third place finishes.
"I give them a lot of credit, it would have been easy to throw in the towel after that," he said.
Paulus also has plenty to like about next year's squad, as six State tourney veterans will return for the 2011-12 campaign.
"We're going to start right where we left off this year," he says. "We'll reload and go after it again."