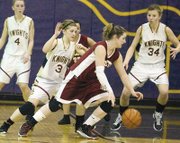 MABTON - District champions via their 61-30 victory over Bickleton last Friday evening in the Mabton High School gym, the Sunnyside Christian Lady Knights need just one more win to advance to the 1B State tournament.
Sunnyside Christian's girls hoop team can pick up that one crucial victory this coming Friday night in the Regional tourney opener at Eastmont High School. The Lady Knights' opponent will be Moses Lake Christian Academy. Should the Sunnyside squad fall on Friday, the team would have a second opportunity to qualify for State in a loser-out Regional game the following day.
By all outward appearances it would seem the Lady Knights are a lock to move on to the State tourney in Spokane. After all, back in mid-December they knocked off the team they'll be facing this coming Friday at Regionals, Moses Lake Christian, by a 38-23 score. And, Sunnyside Christian got that December victory on Moses Lake's home floor, with the Lady Knights' starting point guard, Alyssa Haak, out of the line-up that night.
Not so fast, says Sunnyside Christian Coach Al Smeenk. He quickly points out that Moses Lake Christian Academy has rebounded nicely since that December loss to his team, having compiled the same 20-3 record that his club has. And both squads, points out Smeenk, are the No. 1 teams out of their respective districts.
"We're going to have to play well Friday to beat Moses Lake Christian," said Smeenk. "They're just as tall as us, and they have the two Verhage sisters, who are both pretty good.
"We'll be working a lot this week on fundamentals.
"We can't overlook this team. A lot of it is going to come down to desire," Smeenk added.
If Smeenk's girls have the kind of desire they exhibited this past Friday in the District title game against Bickleton, they'll be fine at Regionals. Sunnyside Christian stormed out to a 15-2 first-quarter lead against the Lady Pirates, then socked the game away against Bickleton with a 19-5 run in the second period.
Analisa Van Oostrum, one of only two seniors playing for the Lady Knights this season, was Sunnyside Christian's sparkplug against Bickleton. She led all scorers with a game-best 21 points, which included connecting on 5-of-8 shots from behind the 3-point arc and making all four of her free throw attempts. Van Oostrum also led the Lady Knights last Friday with a team-high four assists and was a dynamo on defense, coming up with nine steals.
Besides the play of Van Oostrum, who just last week was named this year's MVP of the Greater Columbia 1B League, the one other telling point for Sunnyside Christian in last Friday's game was the job Marisa Broersma and Stormee Van Belle did in containing Bickleton's top scorer, Katelynn Clinton. The duo took turns defending the league's top scorer, holding Clinton to just six points through the first three quarters.
"Both Marisa (Broersma) and Stormee (Van Belle) did a real nice job defending Katelynn (Clinton)," said Smeenk, adding that Clinton is one of the best players his girls have faced in the last several years.
Clinton did come through for eight points in the final quarter to give her 14 for the game, but by that point Smeenk had emptied his bench to let his reserves close out the action.
Also scoring for Bickleton last Friday were Jamie Venema with seven points, Lindsay Brown with four, Aymie Osborne with three points and Jenna Mount with two.
Besides the 21 points canned by Van Oostrum, Sunnyside Christian got nine-point performances from Van Belle and Katie Long, and an eight-point effort from Janelle DeGroot. Also scoring for the District champs were Broersma, Makayla Morrow and Maddy Wavrin with four points apiece, and Haak with two.
Friday's game could have been an even bigger blowout than the final 61-30 score, had the Lady Knights not missed numerous shots from inside the paint. "We had some easy bunnies that just didn't drop," Smeenk confirmed, detailing that his team was only 15-for-48 in its two-point field goal attempts.
Smeenk said his club had room for improvement, as well, in scraping loose balls off the glass. Behind the efforts of Clinton, who had a game-high 16 rebounds, Bickleton came away with twice as many offensive rebounds as did Sunnyside Christian, by an 18 to 9 margin. Overall for the game, however, each team was credited with 37 rebounds. The freshman Van Belle led the Lady Knights' effort on the boards with eight rebounds. DeGroot pulled down six caroms off the glass.
The loss to Sunnyside Christian last Friday ended the 2010-11 season for Bickleton (14-8).
"It was a great season for these girls," said Bickleton Coach Emily Barnhart.