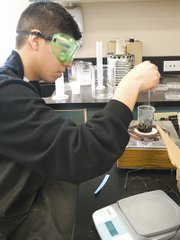 Sunnyside students have been working diligently on projects that in all likelihood would tax the brains of most people.
The students in Joyce Stark's high school environmental science and honors science classes, as well as those teens who participated in the TAZ Fair held last November are ramping up for the annual Sunnyside Science Fair, to be held this coming Saturday.
Each of the students selected their projects for a variety of reasons.
Ricardo Oreya, for instance, wanted to see which lubricants and fluids are best suited for older model vehicles. He said he has an older car and wants to best determine the fluids that he should use to keep the vehicle in proper working order.
To test his theories he soaked rubber in fluids like antifreeze, motor oil, brake fluid, water, ethanol and sulfuric acid.
Jennifer Vargas developed a project introducing Daphnia, a microscopic organism that thrives in water, to pain relievers like acetaminophen and Benadryl. She wanted to study the effect pain relievers have on the heart rate of organisms.
However, a little "bug" introduced itself to the study. The Daphnia died and another "mystery creature" appeared in the irrigation water she is using for the project.
Vargas is adapting to the change in plans and is studying the mystery organism and the effects of pain relievers on the creature. She is also on the hunt to solve the question as to what the creature is.
An environmental and practical project being prepared for the science fair is being developed by Maria Quintero. She is working with kitchen waste, using it as a biofuel and as a fertilizer.
"The alcohol distilled from the waste can be used for fuel," Quintero explained, stating the practice of using biofuel in cooking stoves is common in India.
The distillery she is using is a plastic tub filled with leftover food biproducts like orange peels. She introduced yeast to the tub and fermented it anaerobically.
The remaining biowaste, Quintero anticipates, can be used as a fertilizer.
Sarali Phutiphat, this year's Rotary Exchange student, is from Thailand and she has in the past studied aerobic respiration.
Wanting to take those studies a step further, she decided to study anaerobic respiration using yeast.
Phutiphat said she feels the juxtaposition will give her a greater understanding of respiration, and she is hoping to prove yeast can survive in an oxygen-deprived environment.
To deprive the yeast of oxygen, she immerses it in a glucose compound and melts a layer of paraffin over the mixture.
Guadalupe Acosta is completing an environmental study on the effects of detergents on plant growth.
He said, "We need plants to live and I wanted to study an element of human impact on plant growth."
He said detergents are used in everyday life and soils are often exposed to the chemicals used for cleaning through human carelessness or lack of knowledge.
An example Acosta provided was when dirty water is thrown out after floors have been cleaned.
He is testing the effects of three different detergents on radish plants by removing the chlorophyll from the leaves.
Acosta will examine the chlorophyll levels to draw his conclusions.
For practical purposes, Sergio Lugo decided to conduct experiments on natural and commercial adhesives. He wants to determine the strength of different compounds through his studies.
The compounds he is using include sap and common glues purchased at retailers.
"I use the adhesives on popsicle sticks, balloons, thread, paper and glass slides," Lugo explained.
He attaches the items to a weight stand once the adhesive has dried and adds weights to determine the strength of the adhesives.
Another project being conducted is that of Amanda Villarreal.
"This is a project Mrs. Stark has been trying to get a student to do for three years," she said, stating her interest was piqued when a study of pheromone effects was proposed to her.
Villarreal's project involves a blind test. Several females will provide her information regarding their opinion of several males based on physical attributes. The male subjects will wear the same shirts three nights in a row. The females will then provide Villarreal with information detailing which shirts most attract them based on a "sniff" test, without knowing to which male the shirt belongs.
These are examples of the science projects to be viewed and judged this coming Saturday. Sunnyside High School will conduct its fair in the library. An awards ceremony is planned for next Monday.
The top projects from the local science fair will qualify for the Mid-Columbia Regional Science and Engineering Fair to be held at the Columbia Center Mall in Kennewick March 10-12.