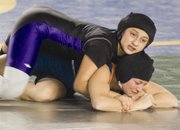 TACOMA - Six Mabton wrestlers took to the mats this past Friday and Saturday hoping to bring home a state championship. There were no championship trophies handed out to the Vikings but four Mabton wrestlers did well enough to medal.
Danny Magallon and Fabian Ruiz represented the boys team and brought home fourth and sixth place trophies, respectively.
Magallon (119 lbs.) went up against Marcus Deyo of Castle Rock in the first match on Friday and lost by a fall in 1:33. This put the Viking in the loser's bracket, where he wrestled against Bryce Wetherell of Riverside High School. Magallon got past him by a score of 10-0, which set up a match against Omak's Cody Harveill. Magallon blanked him, too, by a score of 3-0.
"That was a match he needed to win to stay alive and reach the second day," Mabton Coach John Kilian said.
In Magallon's first match on Saturday he beat Dillon Stiles of Orting by a score of 7-4.
"We got a little bit of luck in that match," Kilian said. "Stiles had just lost his semi-finals match and had to wrestle 45 minutes later. It's always a tough time for guys to regroup."
That win put Magallon in the third/fourth place match against Andres Tereza of Highland. Magallon lost the match 4-0.
Ruiz (145 lbs.), ending up with a 3-3 record for the weekend, started his quest for sixth place honors by beating Nick Atkins of Forks by a score of 6-1. He then lost to Kyle Godinho of Castle Rock in the quarter-finals by a score of 9-3, which dropped Ruiz into the consolation bracket.
There he wrestled Seth Risner of Castle Rock and beat him 5-1. Ruiz next beat LaCenter's Jake Johnson 2-1 to set himself up for a chance at the third/fourth place match. But he lost to Dalton Mudgett of Jenkins High School 5-4.
Kilian said the match was very close and Ruiz actually had Mudgett on his back with seconds to go in the third round, but before he could score any back points the match ended.
This dropped Ruiz into the fifth/sixth place match where he lost to Omak's Brenden Aguilar 12-0.
Four female wrestlers from Mabton made the trip to Mat Classic XXIII this past weekend. Mariela Cendejas (285 lbs.) placed sixth and Jasmin Mendoza (125 lbs.) took home eighth place honors.
Cendejas raced through her first two matches on Friday to reach the semi-finals on Saturday.
She first beat Celene Rodriguez of Highline and pinned her in 3:12. Cendejas then pinned Alex Eyre-White of Mt. Baker in 4:34.
On the second day, however, disaster struck when Cendejas went down with a lower back injury against Jamila Culcleasure of Highline in the semi-finals. Culcleasure used this advantage to pin Cendejas in 4:52.
The Lady Viking then lost to Siao Wilson of Auburn by injury default.
"She tried to go but her heart just wasn't in it," Kilian said. "She was behind by a fair amount with 20 seconds to go when she couldn't continue."
This dropped Cendejas into the fifth/sixth place match, where she lost by injury default against Eyre-White.
Mendoza started her day on Friday by losing to Britni Sinkler of Kalama by a fall in 2:34. This dropped Mendoza into the consolation bracket, where she bounced back against Marissa O'Neil of Rogers High School. Mendoza pinned her in 3:32. She then went on to beat Kiana Prudente of Highline by a score of 8-6 to move on to Saturday's competition.
In her first match on the second day, Mendoza lost to Samantha Keesler of Yelm by a pin in 2:59. This put Mendoza into the seventh/eighth place match against Iris Spring of Vashon Island. Spring beat Mendoza 10-6 in that match.
Mabton's Jesenia Meza (119 lbs.) went 1-2 on Friday and was eliminated. Teammate Mary Gutierrez (112 lbs.) lost her first two matches on Friday and was eliminated, as well.
"Overall I'm very pleased," Kilian said. "We brought six people and came home with four medals."
Mabton placed 26th in the 1A team bracket with 21 points. The girls placed 12th in the consolidated girls bracket with 19 points. Orting won the 1A boys team title and Sedro Woolley took home of the team championship for the girls.