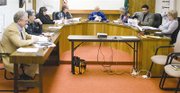 MABTON - The Mabton City Council agreed to renew the franchise agreement the city has with Charter Communications at a meeting held last night (Tuesday).
The agreement is only temporary, however, as the cable company just wanted a one-year term to allow time for negotiations between the two entities for a longer contract.
Charter Communications pays the city a franchise fee to operate within the city. In 2010 the city received $6,600.
The city council, last night, also approved a resolution authorizing the mayor to enter into an agreement with Recall Corporation for the shredding and removal of sensitive documents.
The term of the contract is for two years.
The city keeps several documents with sensitive information for a specified amount of time before they can be destroyed. In the past, the city and the police department have used portable shredders but the amount of material has played havoc on these machines. The police department is on its third one.
The contract calls for Recall Corporation to pick up all of Mabton's sensitive material once a month. The charge for this service is approximately $40 a month. If additional pick-ups are required, the minimum charge for these stops will be $40.
The council debated the merits of signing a two-year or a five-year contract but decided on the shorter length to see what the load will be after the bulk of the sensitive material is destroyed.