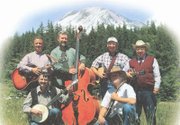 All community residents are being invited to attend a concert at the Sunnyside Adventist Church this coming Saturday.
A talented group of musicians from Walla Walla, known as Hand Picked, will perform. The group specializes in playing Gospel bluegrass music.
The Saturday, Feb. 26, concert will start at 11:15 a.m.
Although there isn't a charge for admission, a freewill offering will be collected that day.
The Sunnyside Adventist Church is located at 1875 E. Lincoln Ave.