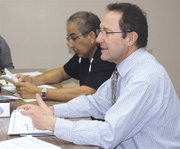 GRANDVIEW - After a series of workshops over the past year, the Grandview City Council made progress last night towards forming a transportation benefit district.
A public hearing held during Tuesday night's meeting was the final step before council takes action on forming a district at its Tuesday, March 8, meeting.
The only public comment during the hearing came from resident Mary Barrett, who expressed support for a transportation benefit district.
Engineer Ted Pooler told council that a transportation benefit district - which if approved would lead to $20 licensing tab fees on all vehicles registered in the city of Grandview - could generate $150,000 to $180,000 each year for road repairs.
He said state law gives the districts flexibility in either designating the money for a large project or for ongoing maintenance.
Pooler's suggestion is to use the money to do chip seal maintenance on city streets on a rotating basis, while setting a small portion aside as matching funds for grant applications.
Pooler says the idea would be each year to focus the district's funds on streets that aren't already beyond the point of no return, streets where a chip seal would extend the life of the street.
Accordingly, Grandview is proposing to use transportation benefit district funds in 2012 on chip seal maintenance for portions of the city that include Munson Lane, Nicka Street, Apache Drive, South Division Street and Broadview Drive.
But first council needs to take action on the matter, which it will do during the active agenda of its March 8 meeting.
The last opportunity for public comment on the proposal would come during the public comment portion of the March 8 meeting.
Mayor Norm Childress said if the district is approved at the next meeting it would still be quite some time before the $20 licensing tab fee is assessed. He says that's because council also needs to organize the board for the transportation benefit district.
Besides reducing potential long-term costs due to lack of maintenance, council expressed support for the district - and its eventual $20 tab fee - as a way to improve Grandview's quality of life.
"Good streets lead to better neighborhoods," said Councilman Jesse Palacios.