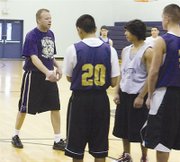 MABTON - When Mabton boys basketball Coach Brock Ledgerwood is asked what word best defined his team's play this season, he doesn't hesitate.
"Heart," he says. "We played a lot of close games in December and we showed a lot of heart, a lot of pride. We're not big, but we play big."
The key moment for the Mabton team in this season's run towards a State tourney appearance began on Dec. 17. As Ledgerwood explains, the Vikings were 3-3 and coming off a stinging 81-66 loss to Goldendale. On Dec. 17 Mabton hosted Riverview High School for its first league game of the season.
"We were down 16 points in the fourth quarter and came back to win it in overtime," Ledgerwood recalled. "We went on the road the next night to play Columbia-Burbank and won that game in overtime. That kind of indentified us."
The Vikings went on to use their heart and their pride to roll off 16 straight wins, before losing to Granger 68-64 in the District title game last Saturday. Along the way Mabton got revenge for the thrashing Goldendale gave them earlier in the season, beating the Timberwolves 80-59 in the District semi-finals.
The Vikings need just one more win to advance to the final eight teams being invited to this season's 1A State tournament. They'll attempt to earn that victory against Chelan High School this Friday, Feb. 25, at Mead High School in Spokane at 8 p.m. This will be a time for the Vikings to show their heart and their pride. It was Chelan that knocked Mabton out of the State tournament last year.
"They're big," Ledgerwood said of Chelan. "But we always have that problem."
Ledgerwood noted that no one on his team measures six feet in size. However, what his team lacks in size, they more than make up for in speed.
"We think our speed will give us an advantage," he added. "If you're small, then you have to use your quickness."
The importance of Friday's match-up isn't lost on the three senior captains on the team, Kristian Carrasco, Jesus Huecias and Josh Strickland. All three know Friday night's contest will be a physical game.
"Everybody is bigger than us, but we're used to getting pushed around. We're ready for it," Strickland said.
But they know they have a secret weapon.
"Speed is very important," Huecias admitted. "Hopefully we're faster."
Ledgerwood believes they are. He said Chelan only has one guard that has speed to match his Vikings and they've been practicing this week on keeping the ball out of his hands. The guard's name is Michael Amsel and Ledgerwood said he is just a sophomore. The rest of the team, he said, is big but slow.
Mabton's starting five; Strickland, Carrasco, Huecias, Carmen Johnson and Josh Sanchez, have been playing together for years.
"They know each other so well," Ledgerwood said. "They're basketball junkies."
He said his squad plays at least 40 games in the summer and when they're not playing AAU, they go off to different tournaments to play 3-on-3 ball.
"They play together and they have fun together," Ledgerwood said.
Carrasco leads the team in scoring and was named the SCAC East MVP this season. Ledgerwood said it's hard to single out just one player on his team but if he had to, it would be Carrasco.
"He's the guy you go to when you need a shot," he said. "He has such a feel for the game."
Carrasco averages 18 points per game and usually gets five steals and five assists per game, as well.
With Huecias, Ledgerwood said, he never has to worry about whether the ball will make it past half-court. Huecias has been the team's starting point guard for three years.
"We will miss him," Ledgerwood said of the senior.
Sanchez is the team's second leading scorer and is the only starter that will be back next year.
"He's probably one of our most versatile players," Ledgerwood said. "He relaxes and plays hard, he doesn't let much affect him. He doesn't get nervous, he's tough on the inside and the outside."
Strickland is the team's natural leader.
"He has that intangible thing you just can't teach," Ledgerwood said. "He's a leader in a quiet way, he just goes out and does it.
"Strickland works his butt off for the team. He sacrifices personal gain for the team and that's a sign of a good leader."
Johnson is the team's biggest player, at 5'11".
"He's just a beast inside," Ledgerwood said. "He has good footwork and a good touch around the basket. He's stronger and faster than most people think."
If the Vikings can beat Chelan this Friday they will automatically advance to the State tournament in Yakima, which starts on March 3. If Mabton loses, then they must play the winner of the Goldendale-Cashmere game on Saturday in a loser-out game to see who advances to the State tournament in Yakima.
Mabton (19-4) placed fifth at the State tournament in 2007. The Vikings were knocked out of the tournament last year without placing.