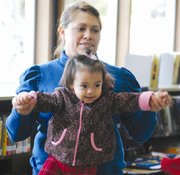 La Escuelita, "The Little School," is more than child care for parents learning English as a second language through Nuestra Casa - it is a learning opportunity for both parents and children.
Since January, parents from Nuestra Casa's ESL classes have joined their children and the La Escuelita teachers on a walk to the Sunnyside Public Library, where librarian Marcelina Ortega reads stories and sings songs with the families.
This joint effort between Nuestra Casa and the public library is the result of a grant from the Foundation for Early Learning out of Seattle.
When Nuestra Casa started to apply for the grant, the foundation recommended the agency team with the public library. After joining forces, Nuestra Casa received a $1,500 grant.
"It's been a wonderful experience," said Sister Peggy Kennedy. She added that the trips to the library have been beneficial to both the parents and children.
"We want the parents to also have the experience of knowing the public library and what it offers."
Kennedy revealed that several parents from the group have gotten their library cards since the program began.
The children and their parents walk from St. Joseph's School every other week and sit down in the kids section where Ortega has planned 30 minutes of fun. She utilizes puppets, books and songs to engage the children and parents.
The story time is presented in both English and Spanish, with Ortega slipping from one language to another casually.
The next time The Little School visits the public library will be on Tuesday, March 8, and Ortega says the 11 a.m. story time is open to all children and their parents.