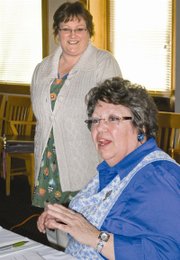 The idea of forming a group that helps others learn heirloom arts like canning, planting a home garden, knitting and sewing blossomed into what is now known as Prosser Farm Girls. The two founders of the group, Rene Groom and Carol Ashby, spoke to the Sunnyside Nouvella Club late last week.
The idea came about when Groom was talking with Ashby, her good friend. Groom said there were a number of women who had shared they did not know how to can foods and perform tasks that were once commonplace in society.
Groom spent time at the Prosser Farmer's Market, hearing women express a desire to learn how to can foods grown in home gardens. Others were interested in learning threadwork, such as sewing.
As a woman who grew up on a farm and never worried about where her food was going to come from, Groom took for granted the skills honed by generations before her.
She returned to her roots, utilizing some of those skills after having survived cancer and her interest in wholesome, organic foods was revived.
At the farmer's market, Groom discovered, "There's a gap of women who weren't paying attention when grandma was jarring jam."
She spoke to Ashby about the idea of providing those women with a group of mentors willing to teach the skills farm wives utilized throughout the generations.
Ashby helped Groom with the idea and Groom displayed a sign at the farmer's market, advertising such a group.
She believed a dozen or so women might be interested, but there were more than 80 names on the list that first day.
"I turned to Carol, asking, 'Now what'?" said Groom.
She said Prosser Farm Girls was formed and nearly three years later there are other groups in the region that provide opportunities for women to learn heirloom or heritage skills.
Because not all the groups are in Prosser, the umbrella name has been changed to Heirloom Arts Society.
Groom said each group has its own "personality," specific to the needs and characteristics of the women in the groups.
"Prosser Farm Girls is a mentoring organization," she said. "The main rule is to have fun."
The group also supports those who have ideas they would like to market. That's where Ashby is able to help out.
She owns Sixth Street Art Gallery in Prosser and features some of the art designed by members of Prosser Farm Girls.
"I am a proud member of Prosser Farm Girls...my father taught me many heirloom art skills like canning," said Ashby, adding though she was taught many of the skills, she isn't very proficient at them.
"My passion in the group is the sisterhood," she continued.
Ashby said she enjoys supporting those involved in the Prosser Farm Girls group and she is proud of the group's efforts to support the community.
Both women encouraged the Nouvella Club members to join the group or visit the Heirloom Arts Society website for more information.