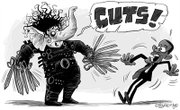 At today's levels, if the national debt were divided among every American, the share of each individual would be $45,000. Under President Obama's proposed budget for next year our debt increases to nearly $90,000 per American. The unpaid bills we are passing on to our children and grandchildren are growing every day.
With the bailouts, stimulus spending, ObamaCare and massive expansion of federal power, the government is spending trillions that it simply does not have. No family or business could operate without balancing their books, and the federal government can't either.
This month marks the two-year anniversary of President Obama's stimulus spending plan. It was promised that the stimulus would keep unemployment at bay and get the U.S. economy back on track, yet today unemployment is still at 9 percent, Americans have lost their jobs and the cost of living has increased. If the past two years prove anything, it is that we cannot spend our way to prosperity.
When President Obama released his proposed budget he missed a unique opportunity to address the economic crisis we face. The President's budget instead increases spending by $8.7 trillion, adds $1.6 trillion in new taxes that will slow economic recovery and expands the deficit to an all-time high of $1.65 trillion.
Now is the time to take responsible actions that will stop the out of control spending, allow for private sector job growth and revive our economy. House Republicans have a plan that cuts $100 billion in federal spending this year, a first step toward getting our fiscal house in order. In the coming weeks, I will be working on serious reforms that address every aspect of our budget. As Congress writes a budget for next year, tough choices will have to be made about what our country can truly afford and virtually every part of the federal government is going to pay a share of the tab.
Putting an end to the uncertainty and fostering a positive, pro-growth environment for Central Washington businesses to grow and create jobs is the only way to get our economy back on track. To create jobs and protect our children from national bankruptcy, we have to stop spending money we don't have. This process will not be easy, but we have an obligation to future generations to act now.
- U.S. Congressman Doc Hastings (R-Pasco) represents Central
Washington's Fourth Congressional District.