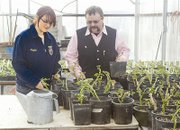 GRANDVIEW - In this her first year as a member of FFA, Grandview High School chapter president Rachel Edwards has already learned plenty about herself and the organization.
Edwards says FFA is far more than "mud and animals," and noted her chapter is involved in a wide array of activities, including sales and marketing.
And it's in marketing where the junior is seeing her biggest potential during and after high school.
"I didn't realize how much confidence I had in myself," she says. "In FFA you have to be able to talk to people."
That confidence has resulted in a two-fold project for Edwards.
One of her projects is public speaking, she says, and the other is marketing saddles in a competitive, mock sales presentation.
"I have a scenario where I have to figure out how to convince my customer, the judge, on why they should buy my product," Edwards says.
This new-found confidence is good news for Ryan Maiden, advisor for the Grandview FFA chapter.
"It's another rebuilding year," he says of the chapter's 15 or so students. "We're building things from the ground up and we have a strong group of kids."
Maiden is happy to see Edwards' efforts in leading the Grandview chapter.
"Rachel has stepped up and taken on the leadership role," he said. Maiden noted that Edwards leads the way in several areas of the chapter's efforts, including fair displays, a green house and plant sales.
"She knows what's going on and works well with people," Maiden added.
It's been a win-win, because Edwards has also benefitted, especially in terms of seeing unlimited potential in marketing and public speaking.
Though unaware of that potential before plugging into FFA, Edwards is already looking to plans after high school.
"I'm definitely going to college," Edwards says. "I'm 100 percent, dead set on college for ag business."