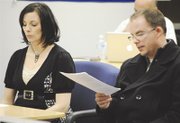 Last year, math coaches at Sierra Vista Middle School and Harrison Middle School placed a particular emphasis on student learning in the seventh grade. This year, the results of that effort reveal tremendous progress.
The Sierra Vista and Harrison math coaches, Angel Carrizales and Josh Schlegel respectively, were at the Thursday night Sunnyside School Board meeting to detail the results and improvement from the Measurements of Student Progress test.
Last year's seventh graders at Sierra Vista experienced a 20.9 percent growth from 2008-09's seventh graders. Meanwhile, seventh graders at Harrison Middle School experienced a 27.2 percent growth from their predecessors.
The math coaches elected to put emphasis on the seventh grade students last year, but growth was measured by students in all grades at each school. Their cohort data, which measures the progress of students as they move from one grade to another, showed improvement with students from their test scores the year before.
For example, last year's seventh grade students at Harrison Middle School had a 22.9 percent increase from their sixth grade test scores in 2008-09. Eighth graders at Harrison experienced an 11.2 percent increase from their seventh grade year.
Sierra Vista experienced similar growth, with a 17.6 percent increase in the seventh grade from their sixth grade scores, and a 19.7 percent increase in eighth graders from their scores the year before.
These remarkable results have caught the attention of educators across Yakima County and Carrizales and Schlegel have presented the results to a variety of educators, including Lower Valley superintendents and other school districts. They also received an invitation to present to educators from a variety of other districts.
Some of the changes that have allowed for this growth are that students get their core math instruction as well as intervention or enrichment every day.
By establishing mini-benchmarks for students, teachers have been able to evaluate their progress in reaching state standards and are able to intervene if students are not meeting requirements. Carrizales informed the school board that some teachers have implemented even smaller benchmarks to evaluate their student's progress toward the district's mini-benchmarks.
Carrizales remarked, "Now that we have those benchmarks, we can predict how they're going to do on the MSP (Measurements of Student Progress)."
Schlegel added that implementing quality instruction has been a major factor. Providing teachers with the materials and guidelines for excellent instruction, and aligning curriculum, has been crucial in providing students with the information they need to succeed.
Both Carrizales and Schlegel credited the teachers and principals with helping to create these results, but Carrizales added one of the most important things they have been working on is changing the perception of math in their schools.
"We're really pushing the culture in the building to (become a place where) math is not a negative word anymore. It's actually something that is...celebrated."