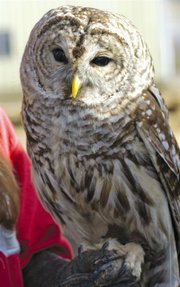 YAKIMA - A new class being offered by the Yakima Valley Audubon Society is aimed at introducing the community to the northwest owl population.
Students will learn about these nocturnal predators, their habitats, behaviors and language.
An informative PowerPoint will begin the class, followed by a real life introduction to live owls with Marsha Flamm and the Raptor House Rehabilitation Center.
After the presentation, the class will head out onto the grounds for a "prowl" through the Yakima Area Arboretum to call down their resident owls. This is a great opportunity to have a safe and exciting night hike through the Arboretum and to learn how to speak owl.
The class will be held on Friday, March 11, at the Yakima Area Arboretum's Jewett Interpretive Center at 1401 Arboretum Drive in Yakima.
The class will run from 6:30 to 8:30 p.m. The cost is $12 for Yakima Area Arboretum members and $15 for non-members.
The Arboretum recommends that people who sign up for the class are able to stay awake until 9 p.m. and walk two miles. They also remind people to dress for the weather.