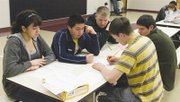 YAKIMA - What is the interior temperature of the Sun thought to be? Which U.S. city is closest to a subduction zone? What islands lie north of the Scottish mainland?
These are just some of the questions Sunnyside High School Knowledge Bowl team members had to answer as part of the Knowledge Bowl Regional Championship held at Riverside Christian High School in Yakima this past Wednesday.
The Sunnyside team members have prepared for the Regional meet with four monthly practice competitions that began last November. These competitions were held at Cle-Elum Roslyn, West Valley, Toppenish and Sunnyside.
At yesterday's event Sunnyside was competing against West Valley for the lone spot from ESD 105 to advance to the State tournament. It wasn't to be, however, as West Valley ran away with the competition and beat the Grizzlies 101-53. Thirteen teams were represented at the event and West Valley bested them all. Sunnyside took ninth place.
Sunnyside Knowledge Bowl Coach Paula Greene said she averages about 16 students that compete in the Knowledge Bowl. Those students are usually split into three teams, when there are enough students to fill them. At yesterday's competition, Sunnyside brought up five players. They were Macenzie Butler, Ruben Lugo, Graham Perednia, Emmanual Santana and Kyle Scott, who is the team captain.
The team practices when they can, usually at lunch. Greene said it can be difficult organizing practices because the students have so many extracurricular activities. But they try to get together at least once a week, where they pore over thousands of questions dealing with math, literature, physical science and just about anything else that's out there.
Students like Butler, Scott and Lugo take AP classes and practice memorizing random facts. Santana likes to practice at school with his teammates. But Perednia's knowledge comes from a more secure place.
"I come from a long line of geeks," he said proudly. "It's in my blood."
The students at Wednesday's Regional competition first took a written exam that included 60 questions. Although there were 13 teams competing, Sunnyside was only up against West Valley, it being the only other 3A school.
After the written test was completed Sunnyside trailed West Valley 43-32. The two teams then met for the oral rounds, with a point going to the team that could answer first.
During the first round it was tight in the beginning. The score was tied at 2 when four questions went unanswered in a row. But then West Valley got on track and quickly built a 5-2 lead. Sunnyside cut the lead to just one point and then traded questions before the West Valley team went on a terror, answering eight straight questions to build a large lead. When the first round of the oral round was finished, West Valley scored 22 points to Sunnyside's 8, and built a 65-40 lead with two oral rounds to go.
West Valley again bested the Grizzlies in the second oral round, outscoring Sunnyside 23-6.
Despite the loss, team Captain Scott said things went pretty good.
"Well, they could have gone better, but usually there are three teams, not just two," he said. "We got a chance to answer more questions than we normally would have. That helped."
Coach Greene was also pleased with her team's performance.
"I'm proud of how they did," she said. "They're a great group of kids. I really enjoy working with them."