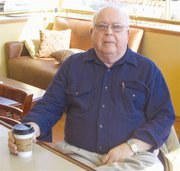 GRANDVIEW - Back in his time as a city councilman, Dale Burgeson helped create the Grandview Planning Commission nearly 30 years ago.
"There were no zoning ordinances back then," said Burgeson, who was on council from 1973-83. "You could build whatever you wanted."
But growth in the late 1970s meant a need for organized zoning to accommodate new development.
Burgeson, Grandview's mayor from 1984-87, just two weeks ago was appointed to the very planning commission he helped form.
It's a different world, a different town from three decades ago when Grandview's planning commission formed.
Back then, he says, the city's planning ordinances covered less than 20 pages. Today they're well over 100.
Grandview's most prominent changes over the past three decades have included the arrival of a college, armory and port district. As councilman and mayor, Burgeson had a hand in all of those, as their beginnings took place from about 1983 to 1985.
The college today has greatly expanded its reach, with a larger campus and now a new library.
In recent years the city has also seen growth at Country Fair Park to the point that it will host a new multi-use community building.
Looking out the window of a Grandview coffeehouse, Burgeson admires another recent improvement in the form of downtown street and sidewalk upgrades.
And it's that sun-splashed downtown that prompted Burgeson to seek appointment to the planning commission he helped form all those years ago.
"I've got time now," the retiree says. "I want to work at attracting more business and with proper zoning you'll do that."
Burgeson says with the recent improvements the city is in a good position to grow its downtown commerce.
"The infrastructure is done," he says. "We're ready for business."