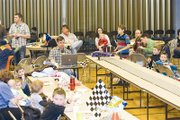 For many participating in last Friday's Pinewood Derby at the Sunnyside First Ward of the Church of Jesus Christ of Latter-day Saints, the event was all about family.
That was true for Ryan Kannely and Dr. Doug Rodriguez.
Kannely said he has been participating in the event for three of its four years. Constructing his race car for the event gives him the opportunity to spend time with his four daughters, who help him design the car.
"Ours is the 'pretty' car," he pointed out, stating he and the girls spent time painting and decorating the racer. To give it a masculine touch, he added a casing from a rifle shell.
Kannely admitted not much preparation went into the sparkly, multi-colored racer. "We spent about an hour-and-a-half on it."
As to whether or not he has ever won the annual Pinewood Derby, he also admitted he doesn't even recall winning a heat.
"I enjoy the family time," Kannely said.
Rodriguez hasn't had the opportunity to compete in any of the races. Instead, he is the support for his sons and runs the track.
"I think I've built 16 cars...my daughter, Arizona, has even competed," he laughed, stating he enjoys watching the children's excitement as the hand-constructed racers build speed down the track.
Kent Copeland, the organizer of this year's Pinewood Derby, said there were 25 cars in the competition.
"Our first year we only had a handful of competitors," he said, adding the event has grown in popularity each year.
There were six rounds of racing and 48 races last Friday. In addition to the championship race, those attending the event were able to vote for the "Best in Show," the best-looking car.
Winners for the fastest cars included Ethan Copeland (grand prize), Gary Martin (runner-up) and Brent Martin (third place).
Top honors for best in show went to Derek Weaver. Kyle Sullivan's racer won runner-up honors and Ella Copeland earned third place honors.
Families gathered last Friday at the Sunnyside First Ward of the Church of Jesus Christ of Latter-day Saints for the church's fourth annual Pinewood Derby. Competing in the event were 25 cars in 48 races.
.