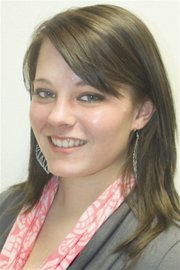 She's cute, petite and perky. But don't let that fool you.
Sunnyside's Anita Tadlock, who graduated last June from Sunnyside High School, is in her third month of school where she is training to be a human intelligence interrogator in the U.S. Army's intelligence department.
Tadlock graduated from Army boot camp on Oct. 15 from Ft. Leonard Wood in Missouri. Most people can't wait until boot camp ends, but Tadlock said she loved the experience.
"It was so much fun," she said. "My drill sergeants were very involved with everything we did. They helped us with everything from the PT, the rifle range to standard drills."
After graduating from boot camp Tadlock was shipped off to Ft. Huachuca in Arizona, where she is currently learning how to be an interrogator.
"We're learning how to read people," she said. "Interrogations have a lot to do with the reactions of the people. There is always a story behind it. Your job is to figure out the story and what else they might know."
Her day starts early, waking up at 3:30 a.m. She is a student leader and must make sure the barracks are cleaned properly and nothing amiss was reported from the previous night's watch.
Then it's on to physical training, breakfast and then class. Her day is finally finished at 5:30 p.m., or 1730 in military jargon.
The classes are tough. She said her instructors push the students to their very limits.
"It's so you can have adequate training because you don't know what you're going to encounter down range," she explained.
Images of torture and waterboarding come to mind when thinking of military-style interrogations, but Tadlock said that couldn't be further from the truth. To help students learn what not to do, Tadlock said she and her classmates are shown videos of interrogations from Abu Grahib, the notorious prison in Iraq.
Waterboarding and other forms of torture are not tolerated, Tadlock said. As human intelligence interrogators, they are trained strictly with the Geneva Convention in mind.
The path to military intelligence wasn't the one Tadlock was always on. Originally she wanted to become a military photographer. But her recruiter thought she would be a good interrogator.
"He saw me with my brother," she joked.
But that was enough to pique her interest and after looking into it, she decided it would be an interesting job to have in her military career.
It turns out she was right.
Already, scouts from the CIA and the FBI have shown an interest in her abilities. Although those careers interest her, Tadlock chooses not to think about it at the moment. First, she said, she wants to finish her training.
Her U.S. Army Reserve unit is based in Tumwater, Wa., and Tadlock said the unit is mobilizing to go to Afghanistan. Because she's currently in school she will miss the original deployment but might join her unit once she finishes school, which is scheduled for March 17.
Once Tadlock goes back on reserve status she plans to live in Federal Way and attend the Art Institute of Seattle. Until then, however, Tadlock is enjoying her time on active duty.
"I love the army," she said. "I'm very glad I joined."